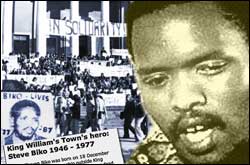 Developing young, brilliant minds with a view to taking on meaningful leadership positions in Africa - that has just become possible thanks to a generous donation to UCT from the Cape Town-based black-empowerment company, Circle Capital Ventures.
Former vice-chancellor Dr Mamphela Ramphele, now the chairperson of Circle Capital Ventures, announced the R5-million pledge to UCT at the Steve Biko Memorial lecture in September last year as a contribution to the UCT Chancellor's Challenge.
The agreement between the company and UCT has now been finalised. The vice-chancellor and principal, Professor Njabulo S Ndebele, and deputy vice-chancellor Professor Cheryl de la Rey represented UCT at the signing ceremony on April 3.
The pledge by Circle Capital Ventures, as presented by Ramphele and Nkosinathi, Samora and Hlumelo Biko, will make the Steve Biko Leadership Fellowship Programme possible. The programme will focus on postgraduate scholarships and could yield six honours degrees, five master's degrees and three doctoral degrees in the first cycle of four years. The cycle will then repeat.
"Our commitment to this is a statement about our understanding of the concept of 'giving back'," Ramphele said. "We believe that although we are a young company we need to 'give back' and make an impact now. Investment in education is the surest way of making an impact now and on future generations. We want the Biko programme and the recipients of the awards to grow with us into the future. We believe that this is an example of a public-private partnership that intersects to establish a sustainable platform into the future, to the benefit of our country and continent."
It is the intention that the scholarships give opportunity to and develop young minds that through their work give effect to the Stephen Biko "philosophy", honouring his commitment to promoting and protecting the dignity and human rights of all people.
"This is an outstanding example of UCT alumni playing a pioneering role and taking a trans-generational responsibility," Ramphele added. "This gift ensures, in perpetuity, access for the successful scholars to higher education. It sets the tone for a culture of taking collective responsibility for the next generation, giving back, and honouring a culture of philanthropy. These are our alumni succeeding at business and then ploughing back to ensure a circle of continuous development for Africa.
Prof Ndebele said: "Sponsoring these scholarships is also a significant gesture in the black consciousness tradition and Circle Capital Ventures is blazing a trail that we hope others will follow. We want to build a cohort of Biko fellows that does the Biko name and UCT proud. It is a significant contribution that will have deep and meaningful impact in the years to come."
'The most potent weapon in the hands of the oppressor is the mind of the oppressed.'
- Steve Biko
---
This work is licensed under a Creative Commons Attribution-NoDerivatives 4.0 International License.
Please view the republishing articles page for more information.
---