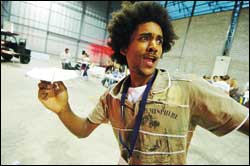 Crash course: Taariq Mullins was among the first-timers trying their hand at the UCT Radio-Red Bull Red Bull Paper Wings competition last week.
If you thought paper planes are kids' stuff, think again. In all corners of the globe, including ours, you'll find people who take their plane folding very seriously. There's even an international contest - slated for May this year in Salzburg, Austria - where about 150 competitors from 48 countries will vie for the world crown. Last week, UCT Radio and Red Bull (you know the tag line) hosted the first step towards Austria, a regional Red Bull Paper Wings "qualiflyer". Through these qualifiers, UCT students and their counterparts from seven other South African campuses stand a chance to make it into the national qualifier in Johannesburg, and there land a spot in the Austrian final. Students compete in three categories - for the airplane that flies the farthest, the one that resists gravity the longest, and the one that takes the most elegant path through the air. At the UCT competition at Thunder City, a hangar where some of the country's finest jets are housed, the serious enthusiasts were thinking of a place on the May flight to Austria. Others were less ambitious. "We're just trying to make it move somewhere other than down," said Dhiya Ramkolowan as she struggled to tuck in a stubborn wing. Ramkolowan's plane-folding buddy Suzainne de Kock had her eye more on the party, featuring local bands and DJs, that was to follow the competition. "We're doing it all in the name of fun," she said. Hey, maybe that's how the Wright brothers got started.
---
This work is licensed under a Creative Commons Attribution-NoDerivatives 4.0 International License.
Please view the republishing articles page for more information.
---