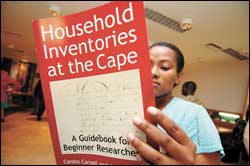 New reading: A new book has come out of a transcription project at the Cape Archives.
Thanks to some generous Dutch funders, a major transcription project on at the Cape Town Archives Repository in Roeland Street has got the wind at its back.
Partners UCT, the University of the Western Cape, the Cape Archives and the National Archives of the Netherlands, with the support of the Dutch government, has launched the second phase of its Transcription of Estate Papers at the Cape of Good Hope (TEPC) exercise. TEPC followed on from the Towards a New Age of Partnership (TANAP), a Dutch-driven programme to build new links with nations like South Africa, India and Sri Lanka, with which it has historical ties.
In the first part of the TEPC, an expert team of transcribers and editors painstakingly digitised inventories from the Orphan Chamber records, dating from the 1690s to the 1830s. These records, say project leaders, give invaluable insight into what people owned, bought, sold and valued at the Cape, and even helps trace the history of households and individuals, including many slaves.
From this work has sprung a new book and CD, Household Inventories at the Cape: a guidebook for beginner researchers, written by Dr Antonia Malan of UCT's Department of Archaeology and UWC's Carohn Cornell. In the mould of its TANAP-funded predecessor, Slaves at the Cape, which covered Cape Archive documents on genealogy, Household Inventories at the Cape is a how-to guide to the Orphan Chamber records for first-time researchers.
For the second phase, transcribers will now turn their attention to the MOOC8 inventory of estate papers.
---
This work is licensed under a Creative Commons Attribution-NoDerivatives 4.0 International License.
Please view the republishing articles page for more information.
---