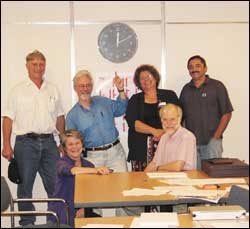 While many of us are getting a little too well done on the Cape's beaches over the December/January holidays, there are teams who steadfastly plough through mounds of administrative work, keeping the wheels turning at UCT.
Application avalanche
The admissions team in the Kramer Building is one such group. As most of us are gearing down, they are processing the more than 13 000 undergraduate applications to study at UCT.
It's not unusual to process thousands of applications in this time, says Carl Herman, director of admissions.
Their "season" is a long one as capturing happens from April to November. September is the first closing date for non-South African applications, followed by the deadline for South African applicants in October.
And then begins the massive data capturing exercise as all applications are processed, December's matric results are downloaded and teetering piles of documentation are scanned. Throughout the process, the results and sent to the faculties who confirm provisional offers and make new offers.
"Typically, each application is handled many times and each has several pieces of information attached, like exams results and alternative admissions test results. It takes its toll in terms of time and resources," Herman adds.
There are also many e-mails and telephone calls to consider, many callers homing in on the office as the answer to all their problems. Many calls have to be rerouted.
But it's the team of two at the front desk who take most of the flak, Herman says. They deal directly with students and their parents - often parents irked because their children have not been admitted for their chosen field of study or they do not understand the admission criteria for the various faculties.
"Fortunately, the faculties deal with appeals for reconsideration," says Herman.
By the end of March, things are slowing down again and this is the time to take a spot of leave. Hats off to the team for a job well done. They include Iegsaan Isaacs, Belinda Hendricks, Yvonne de la Cruz, Levina Kolbe, Jean Overmeyer, Nomfundo Ncoko, Karen Hendricks, Tracy Petersen, Angie Ramohapi, Jane Wright, Nolindo Waban and, Naomi Claassen.
Midnight high
Above are the staff who worked late into the night on January 30 to finalise a US$2.5 million proposal to the Carnegie Corporation. (From left) Geoff Hoy, deputy director and ICT manager (libraries); Joan Rapp, executive director (libraries); Dr Colin Darch, senior information specialist (libraries); Val Bruce, PA to Joan Rapp; Dr Geoff Marks, relations manager (major foundations), Development & Alumni Affairs; and Blythe Edwins, senior building supervisor (libraries). The proposal is for a joint project among UCT, the University of KwaZulu-Natal and University of the Witwatersrand libraries: a New Model for Research Support: Integrating skills, scholarship, and technology in a South African library consortium. The proposal will create a common web-based portal to assist postgraduates and academics at the three universities in their research, and a Research commons - modeled after UCT's Knowledge Commons - for postgraduate students and academics, staffed by librarians with research and subject area expertise.
Marks noted: "This is my fourth Carnegie proposal. They are extremely demanding. While this one was the most complicated because three universities were involved, it was the least stressful because of the high degree of co-operation among the directors of the libraries and their staff and the expertise they brought to bear on the proposal." Mignon van der Merwe, financial manager, (libraries) took the photo.
The proof is in the pudding for ISIS
Registration is the acid test for many a department and system at UCT. one such system to be put through its paces over the past few weeks was PeopleSoft, the new one-stop student-administration system that replaces the 22-year old heritage. The teams from the Integrated Student Information System (ISIS), responsible for the implementation of PeopleSoft at UCT, have spent the past six or so months priming the product for student registration. The final mad dash came over December and January, when ISIS staff forewent summer break to put the final touches to the system. "There were lots of long hours," says project manager Richard van Huyssteen. That sacrifice is paying off, though, as PeopleSoft, notwithstanding the occasional server crash, is live and kicking.
---
This work is licensed under a Creative Commons Attribution-NoDerivatives 4.0 International License.
Please view the republishing articles page for more information.
---