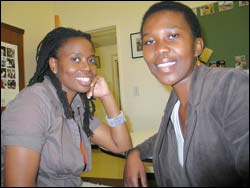 At the coalface: Elelwani Ramugondo (left) brought matriculant Amanda Madolo closer to the action in the occupational therapy department, which is keen to recruit black students.
"Now what do you want to do when you leave school?" is the kind of benign but irksome question matriculants field by the dozen. But Grade 12 pupil Amanda Madolo has it all worked out. And a day at the office in the School of Health and Rehabilitation Sciences in the health sciences faculty has settled her choice, thanks to Cell C's take a girl child to work day.
It was the light of enthusiasm in Madolo's eyes that occupational therapy lecturer Elelwani Ramugondo noticed at UCT's Open Day earlier this year. In turn, the Centre of Science and Technology (Cosat) student from Khayelitsha said it was Ramugondo's talk, A Life Worth Living, which decided her on a degree in occupational therapy.
Ramugondo's talk underlined the quality and not the length of life lived, and supports a particular stance towards care giving among those who work with children living with HIV/AIDS.
When the two met in Pick 'n Pay recently, Ramugondo invited Madolo to spend a day shadowing her in the lecture theatres and corridors of the Division of Occupational Therapy in the Old Main Building at Groote Schuur Hospital.
Madolo enjoyed the informal and interactive nature of lectures, where the students also contribute ideas.
She was keen to share her experience with fellow pupils at Cosat. Occupational therapy is presently dominated by young white women, with a glaring absence of men and black students, an imbalance Ramugondo is keen to set right.
For her part, Madolo has taken the experience straight back to the classroom and to her peers.
The day also marked her 17th birthday, an additional milestone in a journey just begun.
---
This work is licensed under a Creative Commons Attribution-NoDerivatives 4.0 International License.
Please view the republishing articles page for more information.
---