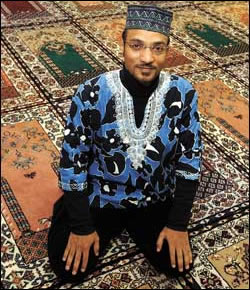 State and violence: Abdul Rashied Omar, former Imam of the Claremont Mosque and PhD graduand.
Abdul Rashied Omar's PhD supervisor, Professor David Chidester (religious studies), describes him as "an extraordinary person who has accomplished so much locally and internationally".
Omar will graduate next week, his PhD thesis titled Religion, Violence and the State: A dialogical encounter between activists and scholars. It develops an original analysis of the role of the state in situations of religious conflict.
Tapping into the burgeoning post-Cold War literature on religion and violence, Omar's study challenges major theorists for their tendency to neglect the role of the modern state and state violence in analysing religious conflict.
The heart of the thesis draws on in-depth qualitative interviews with three prominent religious activists: South Africa's Michael Lapsley, Mustafa Ceric of Bosnia-Herzegovina, and Swami Agnivesh on India, placing their reflections in conversation with contemporary theories of religion and violence.
Going beyond conventional Eurocentric formulations, these interviews with religious activists form the basis for investigating connections between religious violence and state violence in three contexts: the anti-apartheid struggle in South Africa, the war in Bosnia-Herzegovina, and the "communal" conflict in Gujarat.
The three case studies developed in the thesis identify different aspects of the nexus between religion and violence. But all three point to the critical role of the state and illuminate the ways in which religion can sanctify state-sponsored violence.
"In this comparative analysis of religious violence, Omar's thesis advances a polycentric theory of religion, violence and the state that expands and deepens our understanding of religious conflict and provides new resources for peace building," Chidester wrote in the citation.
The Cape Town-born Imam served the Claremont Mosque from 1985 to 2000, and is one of the city's leading religious figures, a community-based activist and university-based researcher, teacher and administrator.
He completed his BA, BA honours in history and a master's degree in religious studies at UCT. He also completed programmes in Islamic religious education in Sudan, Pakistan and Malaysia.
In 2001, Omar received a Master in Peace Studies from the University of Notre Dame in Indiana, remaining as programme coordinator for the Joan B Kroc Institute for International Peace Studies.
With numerous publications on Islam and inter-religious relations, he has served as trustee for many organisations, from the Council for a Parliament of the World's Religions, to the Desmond Tutu Peace Foundation, putting theory into practice.
---
This work is licensed under a Creative Commons Attribution-NoDerivatives 4.0 International License.
Please view the republishing articles page for more information.
---