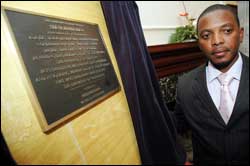 Looking forward: Nkosinathi Biko unveiled the plaque that will soon adorn the newly named Steve Biko Student Union Building.
Finding someone after whom to name a building dedicated to students must cause a few headaches. The person, it goes without saying, must be someone of stature (so no pop stars, please) and who, at the same time, captures the hearts and minds of contemporary students.
In South Africa, wrestling with transformation, there are many considerations. And UCT's Naming of Buildings Committee (NOBC) is well aware of these.
"To look for names that signal a break from an exclusive past pattern," reads the NOBC's terms of reference, "send strong messages about the cultures UCT seeks to reflect, and through which we will celebrate, recognise and commemorate people."
For some time now, UCT students believed they had found the person after which they wished to name the greyly titled Student Development & Services Department Building, also known as, catchier but perhaps confusing to outsiders, the SDSD Building. Student Representative Council after Student Representative Council have for years appealed to have the building rechristened the Steve Biko Student Union Building, in honour of the iconic father of the South African Students' Organisation (SASO) and the black consciousness movement in South Africa. In fact, an impatient Nqobizitha "Fire" Mlilo, president of the 2004/2005 SRC, thought UCT was dragging its feet and unilaterally declared the building so named a few months ago.
Last week, though, Vice-Chancellor and Principal, Professor Njabulo S Ndebele, and the NOBC made it official. At a special ceremony, Biko's eldest son, Nkosinathi, unveiled a plaque that will soon adorn the building.
The process has been a slow one, Ndebele acknowledged at the event.
"For some time now, successive SRCs have been grappling with the idea of renaming this building to reflect the transformation taking place at UCT," he said. "From the outset it was agreed that the name should reflect the struggles of past student leaders and activists, and this is how the name of Stephen Bantu Biko surfaced, a man whose name is inextricably linked with our country's liberation."
One could almost forgive Mlilo, one of the most vocal champions of the renaming, for gloating. The moment, he believes, has been a long time coming.
"If this university, in its various mission statements, claims to be an African university, it must act as such," he said.
Nkosinathi Biko, who graduated from UCT in 1994 and has since been a regular visitor here as part of the Steve Biko Foundation, remembers a university that "was not everything we would have wished it to have been". But, he said, the Steve Biko Student Union Building may help it become that.
"I hope that this building will be a physical space that contributes towards the generation of ideas, contributes to the building of this university and this country, and is consistent with the life of Steve Biko."
---
This work is licensed under a Creative Commons Attribution-NoDerivatives 4.0 International License.
Please view the republishing articles page for more information.
---