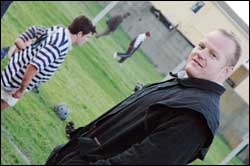 Forward march: Former Springbok Robbie Kempson will return to the UCT Rugby Club in 2006, continuing the work he did this year with the first- and second-team forwards.
This year, the UCT Rugby Club and its FNB UCT first team reaped the fruits of a high-dosage injection of professionalism.
Facing an unthinkable drop from the WP super league, the club hired the famed Alan Solomons and Robbie Kempson as coaches. The upshot? A fairytale comeback of eight straight wins and, to cap 2005, a rout of the mighty Maties.
It's a high the club will want to maintain next year. So, in addition to its recent appointment of Dave Mallett as head coach, the club has again asked Kempson - and he's agreed - to assist with the first and second XV packs, particularly the tight fives. One of the club's most beloved sons, Robbie Fleck, will also join the coaching staff to offer his expertise as a backline coach.
Both Kempson and Fleck retired very recently from top-class rugby, and their knowledge of modern trends and experience of playing at this level will benefit and improve the players enormously, says Spencer King, director of rugby at UCT.
In addition, Bob Shaw and Phil Venter, both current UCT coaches, will be the assistant and second XV coaches, respectively. "Boots" Crossley will be the fitness coach, and Donovan Murray and Mike Maytham the managers.
It's a line-up that would be envy of any club.
"Indeed, there can be very few clubs in the world (and even some unions) who can boast such a strong coaching structure," says King.
Stellenbosch should be sitting up and taking notice by now.
---
This work is licensed under a Creative Commons Attribution-NoDerivatives 4.0 International License.
Please view the republishing articles page for more information.
---