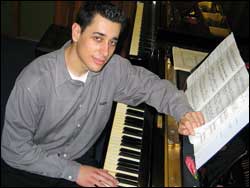 Reward: Pianist Justin Krawitz, a master's student at the South African College of Music, will travel to the US with his prize money.
Master's student Justin Krawitz (24) calls his good fortune a "smile from above".
It's probably one of the best year-end prizes a music student could wish for: a sizeable cash prize to fund overseas travel, hopefully to the United States to pursue a Doctor of Musical Arts degree, either at Northwestern University, Illinois, or the University of Wisconsin-Madison.
Krawitz owes this to the Pick 'n Pay/Fine Music Radio101.3 Music Travel Awards, in which he won top laurels, a handsome R20 000, in the classical music section.
The winners were announced live on air on the station's Aperitif programme at the end of October, part of the station's 10th anniversary celebrations. Over 45 entries were received in the competition, which included a jazz category.
Krawitz, who received his Bachelor of Music degree with distinction in 2003, impressed the judges with his rendition of the Ouverture from JS Bach's Partita No 4 in D major and the Polonaise-fantasie, Op 61 by Chopin.
Mark Jennings, Pick 'n Pay's in-house radio station manager, said the standard of playing in both categories had been "remarkably high", reflecting the Western Province's huge pool of music talent.
Krawitz received his first musical tuition at the age of 10.
"The urge to learn the piano was quite spontaneous. Once I had convinced my parents that it wasn't a passing phase, we found a piano and I haven't looked back."
While still at school at Herzlia he won second prize in the Johan Vos Competition. Later, he was invited to perform in Aviva Pelham's Aviva and Friends at the Baxter Theatre Centre. The pianist has received other accolades: the Zook Fields Piano Prize, a SAMRO undergraduate bursary, the Normal Nossel Prize and the Dudley D'Ewes Scholarship. He also took the class medal for 2000.
In 1999 he began his studies at the SACM, taking piano under Associate Professor François du Toit.
"He has been my greatest musical influence. He is a consummate musician and a great teacher."
He was also fortunate to have a year of study under Sandra Kettle in 2001.
Krawitz, a highly regarded teacher at the SACM, served as a teaching assistant to Du Toit in 2003. He currently teaches in the SACM's keyboard studies department.
Teaching brings huge rewards, he says.
"Teaching at a tertiary level is really what I want to do. It's incredibly rewarding to see what a difference you can make to people's lives. The challenge as a teacher is to extract the full potential from each candidate, getting them to do things they didn't know they were capable of."
With its generous prizes, he believes the Pick 'n Pay/Fine Music Radio101.3 Music Travel Awards could become one of the most important competitions for young performers in South Africa.
---
This work is licensed under a Creative Commons Attribution-NoDerivatives 4.0 International License.
Please view the republishing articles page for more information.
---