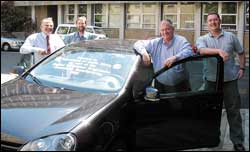 Revved up: Volkswagen South Africa has donated a Golf 1.6 FSI to the mechanical engineering department. Taking delivery are (from left) HOD Prof Bob Tait, Trevor Cloete, Prof Kevin Bennett and Steve Marais. (Absent: Prof Chris Redelinghuys.)
It's not often you find a brand new Volkswagen Golf on the "dissection slab" of a university mechanical engineering laboratory.
UCT mechanical engineering students will now enjoy the benefits of an in situ, left-hand drive Golf 1.6 FSI, donated by Volkswagen South Africa, and intended for inspection and study.
The vehicle will be used as a demonstration model in the design and dynamics sections of their course. The department has yet to decide on an optimal method of demonstration: they can either partially disassemble the vehicle or cut away sections of the bodywork to show the various working parts.
The vehicle will also give students first-hand experience of the various features of modern vehicle design, from architecture to engine design and braking systems.
Lecturer Trevor Cloete says it will be an invaluable teachingtool.teaching tool.tool.
Volkswagen are also making parallel donations of gear sets, braking systems and an engine, to be used for laboratory practicals and demonstrations.
The donation is the result of a close collaboration between the department and Volkswagen, led by new managing director and chief executive officer, Andries Tostmann, and his team. From UCT's side, the deal was tied up by Professor Chris Redelinghuys.
The donation follows the Volkswagen's Student Orientation Programme on Automotive Manufacture (SOPAM), in which 15 third-year mechanical engineering students visited the Volkswagen manufacturing plant in Uitenhage, accompanied by lecturer Steve Marais.
Here the students witnessed a modern manufacturing plant in action, complete with robotic and automated production processes. The visit also gave them a chance to explore collaborative research initiatives and even job opportunities.
The department sees the collaboration as a welcome opportunity to form bonds with industry while exposing students to the competitive world of top-flight production engineering.
---
This work is licensed under a Creative Commons Attribution-NoDerivatives 4.0 International License.
Please view the republishing articles page for more information.
---