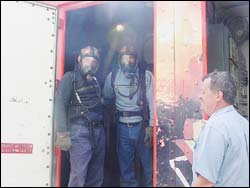 Safety training on campus
Professor Jack Fletcher (left) and Eghsaan Matthews emerge from a truck used for a safety training exercise for the Catalysis Research Unit on campus last week. The research unit sometimes works with hazardous materials and is therefore required to maintain high safety standards.
The staff members had to don breathing apparatus and enter the pitch black truck in a simulation exercise that requires teams to work closely together under adverse conditions.
Head of the unit, Fletcher, who went first, commented: "I knew it was going to be dark but I didn't realise that it was going to be pitch black, so that you could only see the luminescence of your buddy's pressure gauge.
"We would never experience a situation as dark, but it was a good practice for staff to get the feeling of the breathing apparatus under stressful conditions."
Marc Wüst is the technical and safety officer for the Catalysis Research Unit and is responsible for organising the training.
---
This work is licensed under a Creative Commons Attribution-NoDerivatives 4.0 International License.
Please view the republishing articles page for more information.
---