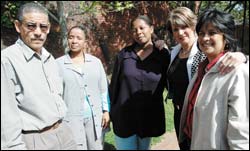 Model developers: RDOs Neil Foster, Nomakhaya Kamwendo, Wezi Seme, Dr Rosemary Exner and Charmaine January.
It is generally held that the residence development programmes at UCT are a cut above the rest.
These programmes aim for "holistic student development", covering everything from academic support to psychological and physical wellbeing. Most importantly, residences look to the best ways to bolster the throughput rate of the university's domiciled students.
It's a programme that the university's band of five residence development officers (RDO) - or practitioners, as they prefer to be known - developed and are rightly proud of, and like to share with others. Which is what they did recently at two conferences, one that cast about for best practices in student development, the other to share findings on the adjustment of first-year students to university life.
RDOs Neil Foster, Charmaine January, Nomakhaya Kamwendo and Wezi Seme presented a paper titled Is Our Umbrella Coping with Strong Wind and Wild Rain, on UCT's first-tier residence development programmes at the Fifth Annual Conference of the South African Association of Senior Student-Affairs Professionals (SAASSAP). The theme for this year's gathering, hosted by the University of the Western Cape in September, was Student Development and Support: Meeting the Challenges of a Democratic South Africa.
At about the same time, the final member of the team, psychologist Dr Rosemary Exner, presented a poster and paper on an identical theme - although her offerings were titled So are Your Wings Folded or Just Tucked Away? - at the 26th Annual Conference of the Society for Student Counsellors in Southern Africa (SSCSA), hosted by the Counselling and Careers Development Unit of the University of the Witwatersrand.
"We are seen by many universities as a model for developing holistic living and learning environments," says Foster. "They are consulting with us to reproduce the model that we have."
---
This work is licensed under a Creative Commons Attribution-NoDerivatives 4.0 International License.
Please view the republishing articles page for more information.
---