Genome pioneer at the Baxter
American biologist Dr J Craig Venter, who is recognised for his visionary contributions in genomic research, is to give a one-off public lecture at the Baxter Theatre on Friday November 11 at 12h00.
The open lecture is being held under the banner of the vice-chancellor and principal Professor Njabulo S Ndebele.
Venter sequenced the first genome from a living species and led one of the two teams, Celera Genomics, that sequenced the human genome in an approach which was regarded as both brilliantly unconventional and unashamedly bold.
He is currently engaged in the race to build a synthetic living organism from scratch, and is leading a global expedition to obtain and study genetic material from the world's oceans.
The venue for his lecture, titled A History of Genomics: From Human to the Environment, will be the Baxter Concert Hall, Baxter Theatre.
Due to limited space, tickets will be available for collection from the Baxter box office from Tuesday November 1 to Monday November 7 between 09h00 and 16h00. Entry is free, but tickets will be limited to two per person.
Doors open at 11h30.
Art tour to Italy
Between June 21and July 3, 2006, Professor Michael Godby, who specialises in history of art in the Department of Historical Studies, will lead an art tour to Italy. The theme of the tour will be Italian Art ca.1300: Giotto, Duccio and Giovanni Pisano. The tour will be based in Florence but will visit Siena, Pisa, Padua, Assisi and other centres.
The cost of the tour in Italy will be approximately €1 030 including budget accommodation, all travel within Italy, entries to all museums, etc, breakfasts and a few other meals. The flights are being arranged separately.
Anybody interested in joining this tour should contact Michael Godby at michael@humanities.uct.ac.za.
Ceramics at Irma Stern Museum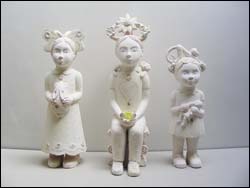 Lovell Friedman's ceramic sculptures.
Lovell Friedman will be exhibiting her range of ceramic sculptures at the Irma Stern Museum from October 25 (the opening night, which will be held at 18h00) until November 12. Friedman, a Master in Fine Art graduate from UCT, has taught art at school and at children's workshops. She has lectured at the Cape Town University of Technology and in Canada and the United States. The gallery hours are 10h00 to 17h00 from Tuesday to Saturday.
Race and blood transfusion
Emeritus Professor Trefor Jenkins will give a seminar titled Ethical Reflections on Race and Blood Transfusion at the UCT Anatomy Building Learning Centre, Anzio Road, Observatory, on October 25 at 18h00.
Jenkins was professor and head of the Department of Human Genetics, School of Pathology, at the South African Institute for Medical Research and at the University of the Witwatersrand, Johannesburg, from June 1975 until his retirement in September 1998. He is now emeritus professor and an honorary professorial research fellow in the same department as well as honorary lecturer in bioethics.
A graduate of London University, he came to Africa as a mine medical officer in Zimbabwe (then Southern Rhodesia) in 1960. Seeing children with sickle cell anaemia aroused his interest in genetics and in the peoples of the continent.
Jenkins has been active in teaching medical ethics to medical undergraduate students and has written on the ethics of the medical care of prisoners and detainees, pre-natal diagnosis and selective abortion, human experimentation and euthanasia, and the Human Genome Project.
RSVP to Nuraan at 021 422 4207 or e-mail namlay@africagenome.co.za by October 17.
Tai Chi classes
Tai Chi is on offer at Welgelegen, Lower Campus, at lunch time on Tuesdays and Thursdays. The classes are R20 a session or R140 a month. Only comfortable clothing and flat shoes or bare feet required for the lessons which follow the Wang school. For more details email aweiss@bremner.uct.ac.za or call 650-5160.
---
This work is licensed under a Creative Commons Attribution-NoDerivatives 4.0 International License.
Please view the republishing articles page for more information.
---