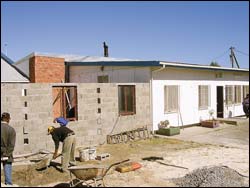 Bricks and mortar: Building has started on SHAWCO's new multi-purpose health care centre in Khayelitsha.
No one can accuse the Students' Health and Welfare Centres Organisation of not thinking big.
For years now, the SHAWCO K1 centre, home to an adult day-care club, was one of the five stops for the organisation's small fleet of mobile clinics from which volunteer medical students ministered basic health care to residents. But with state clinics in the area swamped, SHAWCO saw an opportunity to lend an even bigger hand.
So last year, it launched the Golda Selzer Memorial Fund, named in honour of the late SHAWCO pioneer. The primary objective of the fund was to raise as much money as possible, firstly to bankroll the building of a multi-purpose health centre - to be named the Golda Selzer Memorial Community Health Centre - right next to the K1 centre, and secondly, to keep the facility going in perpetuity.
"We want to raise as much as we can to make the centre as effective as possible," says Dr Stuart Saunders, chairperson of the fund and, along with other fund members such as Dr Hannah Reeve Sanders and Professor Peter Folb, a former associate of Selzer's.
Recently, the fund hit the R1-million mark, half of which has gone towards the erection of the building, which is now under way.
Once the centre is up, the next step will be to get it running. Which is why SHAWCO has offered the facility as training centre for medical students from both UCT and the University of Stellenbosch, much along the lines of the recently opened Vanguard Student Learning Centre in Bonteheuwel.
In addition, SHAWCO wants to amp up the range of care offered, hoping to provide all kinds of treatment, anything from occupational therapy to ophthalmology.
"We want professionals and students together to offer more services," says Varkey George, director of SHAWCO.
And to do it for a very long time.
---
This work is licensed under a Creative Commons Attribution-NoDerivatives 4.0 International License.
Please view the republishing articles page for more information.
---