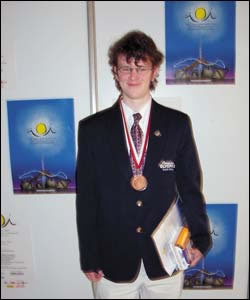 Timothy Stranex
UCT student picks up medal at olympiad
Timothy Stranex, a first-year computer science student, won a bronze medal at the International Olympiad in Informatics (IOI) held in Nowy Scaz, Poland. The IOI is an annual competition for young computer programmers. This year, 276 participants from 73 countries took part in the two-day competition. Each day, the participants received three problems, and had five hours to write computer programs to solve these problems. UCT's Donald Cook, student advisor in the Department of Computer Science, was the team leader of the SA team, while Bruce Merry, a postgraduate student here, served as deputy leader. Last year, Stranex, while still a matric learner at Crawford College North Coast in KwaZulu-Natal, also took the gold medal at the South African Computer Olympiad, a project of the Computer Society of South Africa and the Shuttleworth Foundation. Apart from being a gifted computer programmer and mathematician, he is also a student of Japanese. "Timothy, like the other three members of the team, was an excellent ambassador for South Africa," says Peter Waker, manager of the South African Computer Olympiad. With one bronze medal, South Africa is right up there with the other top Southern Hemisphere countries, Argentina and Australia, who also won one bronze medal each. The gold medals this year went mostly to the USA, China and, would you believe it, the Slovak Republic.
Rag sells wines for fine palates
The UCT RAG (Remember and Give) is holding its annual SHAWCO Wine Auction on Saturday, November 5. The event will be held at the Cape Town Castle, in the Sekunde Room. This room is owned by the Cape Town Highlanders, who are also lending a hand and supporting this year's auction. Bud O'Brien, former FNB Manager and Cape Highlanders captain, passed away this year and has left a substantial amount of exclusive whisky and wine. This cache will be added to the wine RAG has managed to accumulate and auctioned on the evening. UCT alumnus Joey Burke from Auction Alliance will do the honours. Tickets will cost R200 per person, or R2 000 per table of 10. This includes a three-course meal with wine donated by Woolworths. It is a black-tie event. To buy a ticket or to book a table, please contact Jean Barratt on 021-650-3654, or e-mail her on jbarratt@its.uct.ac.za. Please support this event and help RAG to raise more funds for SHAWCO.
---
This work is licensed under a Creative Commons Attribution-NoDerivatives 4.0 International License.
Please view the republishing articles page for more information.
---