Nobel laureate to lecture on aquaporins
Professor Peter Agre, Nobel Prize winner for chemistry in 2003, will deliver a lecture, Aquaporin Water Channels: From Atomic Structure to Clinical Medicine, in Lecture Theatre 2 in the Kramer Building on October 4 at 17h30. It will be hosted by Cape Biotech, the National Bioinformatics Network and Merck. Agre arrived in South Africa at the beginning of October for a two-week lecture tour. His discovery of the aquaporin water channels launched a new area of biomedical research. Water is the major component of all forms of life, but the movements of fluids between biological compartments has been a mystery to scientists. The aquaporins serve as cellular plumbing systems and are involved in the generation of fluids, including cerebrospinal fluid, aqueous humor, sweat, saliva, tears, airway secretions, bile, milk, and the concentration of urine. These pathways are involved in multiple human disease states.
ACT Gala Fundraiser at Artscape
On October 6, the Arts & Culture Trust (ACT) will host a gala preview performance of the play Happy Endings Are Extra by award-winning local playwright and UCT alumnus Ashraf Johaardien at Artscape. To date, ACT has supported almost 500 projects in all arts disciplines. However, the trust needs to raise substantial funding annually to ensure sustainability and to secure funding for future projects. Set against the backdrop of Cape Town's dazzling and unsleeping world of massage parlours, boys for rent and sex for cash, Happy Endings explores the extremes of domestic unhappiness in the relationship between Gabriel, a bisexual man, Chantelle, his fiancée, and Chris, an underage rent-boy. Starring award-winning actors Darren King, Pieter Jacobs and Diedre Wolhuter, Happy Endings is directed by FNB award-nominee Neville Engelbrecht. Tickets for the ACT gala preview are R150 and guests stand a chance to win prizes. Booking is through Computicket or the Artscape box office on 021 421 7695.
ICT expo
Every year, third-year and honours student groups in the Department of Information Systems at UCT develop unique software solutions for real-life businesses. This year's solutions will be on display to industry and the public in Jameson Hall. On October 17, all honours projects will be on display from 14h00 to 16h00, while the third-years will have the opportunity to display their work from 11h00 to 15h30 on October 18.
Speaking in two tongues
The Centre for African Studies (CAS) and the Multilingualism Education Project (MEP) will host a forum on language and transformation, titled Why Multilingualism? Isn't English Enough?, on October 4. The event will take place in the CAS Gallery, and will run from 13h00 to 14h00. Assoc Prof Mbulungeni Madiba, coordinator of the MEP, will chair the meeting. Speakers will be Prof Neville Alexander of the Project for the Study of Alternative Education in South Africa (PRAESA); Prof Daya Reddy, dean of the Faculty of Science; and Andrea Africa of the Student Representative Council (SRC). For more information, contact Monique Whitaker at x2310 or whitaker@humanities.uct.ac.za.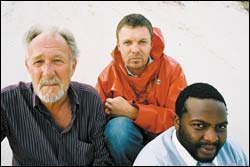 The Groundswell cast of Roger Dwyer, Warrick Grier and Thando Mthi.
Groundswell at Baxter
After standing ovations at the Intimate Theatre and the Grahamstown Festival, hit play Groundswell is set to open at the Baxter Sanlam Studio Theatre on Wednesday, October 5, with a budget-priced preview of R30 per ticket on Tuesday, October 4. Set in a guest house in the heart of a West Coast winter, playwright Ian Bruce's powerful drama throws three South African men together, casting a light on the darker side of their - and our own - dreams, aspirations and assumptions. The play stars Warrick Grier, Thando Mthi and Roger Dwyer, and offers "one of the most complex and frightening villains on a South African stage for many a year", says the Cape Times. Performances will run from Mondays to Saturdays at 20h15, with a 15h00 matinee on Saturdays. Tickets cost R65 on Tuesdays to Thursdays, and R75 on Fridays and Saturdays. Block-booking discounts for 10 or more cost R50 per ticket, and students and pensioners with valid cards pay R40.
Wellness Week coming up
The celebrated Wellness Week is almost upon us. If you haven't already done so, pen these dates into your diary in bold red: October 12 to 14. The venue is the quad at the Graduate School for Humanities on upper campus. Why should you be there? This collection of exhibitors and practitioners will help you manage your health and fitness - and your stress levels (very important at this time of year). Exhibitors include Body IQ, Sport Injuries Clinic and the UCT Private Hospital, which will be promoting breast cancer awareness. A telephonic pre-Wellness Week survey, with the focus on HIV/AIDS, will be conducted. During the event there will be a different guest speaker during each lunchtime period.
---
This work is licensed under a Creative Commons Attribution-NoDerivatives 4.0 International License.
Please view the republishing articles page for more information.
---