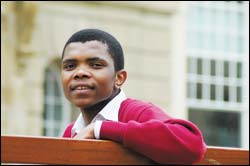 Xolani Hadebe (above) really, really wanted to go the 9th International Youth Leadership Conference held in Prague, Czechoslovakia, in July this year. "I just thought that it would develop me so much as a person and a student," says Hadebe (22) now in the final year of his BSc audiology studies. So in late 2004 he applied for a spot at the conference, and, boasting all the right credentials - at UCT he served on the Woolsack residence house committee, has been involved with the ANC Youth League and Impilo, a grouping of medical students from disadvantaged backgrounds - and with the support of Martha Geiger, a lecturer in the Division of Communication Sciences and Disorders, he was accepted. There was only one hiccup - he did not have the financial means to get there. Even with a 50% discount, that still left him short some €375 (around R3 000) in conference fees, plus another R8 000 in airfare. So over some six months Hadebe scrimped and saved whatever he could from his part-time jobs and bursary. It was that, and a little help from his friends, that got him to Prague on his first overseas trip in July. At the conference, he was cast as UN secretary-general Kofi Annan for a series of simulation activities during which the 150 or so young delegates bantered and bandied about issues such as the arms race, human trafficking, and Africa's future. "I got so much out of it," Hadebe says. Just rewards for what he put in.
---
This work is licensed under a Creative Commons Attribution-NoDerivatives 4.0 International License.
Please view the republishing articles page for more information.
---