Baxter fundraiser not to be missed
Jessica and Bernard Lyon, whose team from the Baxter Restaurants and Bars supplies a cornucopia of eatables and drinks for many UCT functions, are hosting a fundraiser for St Luke's Hospice on September 14, the St Luke's Hospice Silver Jubilee Benefit Concert.
One of South Africa's top satirists, Mark Banks, will share the stage with internationally-acclaimed concert pianist François du Toit on Wednesday, September 14, in the Baxter Concert Hall for a time of music and comedy. The ticket price of R100 includes a finger supper before the concert, which starts at 19h00.
Every cent will be donated to St Luke's. The UCT String Quartet will perform during dinner, and (yes, there's more) after the show, the acclaimed marimba group, amaAmbush, and jazz singing sensation Sakhile Moleshe will round off the evening. All are students from the South African College of Music.
Tickets are available from St Luke's or from Jessica Lyon at the Baxter Restaurant. For more information contact Jessica on 082 494 5505.
Dem Bones
Dr Rebecca Rogers Ackermann will give a lecture on the topic Hobbits, Hybrids and Human Evolution as part of the Darwin Seminars on September 14, at 18h00 in the Wolfson Pavilion, IIDMM Building, Anzio Road. Her lecture will focus on the diversity in the human fossil record. She will demonstrate how we use our closest primate relatives as models for understanding past variation and how this has been shaped through evolution. The seminars are hosted by the African Genome Education Institute and the Division of Human Genetics at UCT. For more information or to RSVP, contact Nuraan Amlay at 422 4207 or e-mail namlay@africagenome.co.za.
Distinguished Alumni Lecture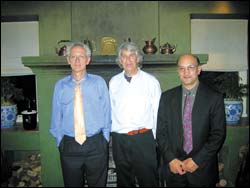 (From left) Prof Emanuel Derman with Prof David Aschman and Prof Daya Reddy.
The Faculty of Science recently held its second Distinguished Alumni Lecture, delivered each year by a graduate of the science faculty who has made distinguished contributions in their career - all of course attributable to that science degree from UCT.
This year's speaker was Prof Emanuel Derman whose topic was Uses and Misuses of Financial Models, having made the quantum leap from physics to financial analysis.
Derman graduated from UCT in 1964 with a BSc in applied mathematics and physics (distinction) and a BSc (Hons) in theoretical physics (first class) in 1965.
In the United States, he completed a PhD in theoretical particle physics at Columbia University in 1973. Then followed postdoctoral or faculty positions at the University of Pennsylvania, Oxford, Rockefeller University in New York, and the University of Colorado at Boulder, as well as a five-year spell as a research scientist at Bell Labs.
Derman joined Goldman Sachs in 1985, where he eventually rose to the position of managing director and head of derivatives analysis and firm-wide risk.
In 2003 he returned to academia as professor in the Department of Industrial Engineering and Operations Research, and co-director of the financial engineering programme at Columbia University. In 2004 he published an autobiographical work titled My Life as a Quant: Reflections on Physics and Finance.
Dean of Science, Professor Daya Reddy, said Derman had brought distinction to the science faculty through his achievements.
Heritage Tour and Lectures
There will be a free heritage tour of the UCT campus on September 17 as part of the university's celebration of Heritage Month.
This tour will start at the Summer House at 14h30 and finish at 16h30 and will be conducted by Prof Howard Phillips. There are only 30 spaces available for this tour, so booking is on a first-come, first-served basis. Please call 650 3862 to book or alternatively e-mail sgrove@bremner.uct.ac.za.
Anyone unable to make this tour is also welcome to pick up a Heritage Trail map at the Visitor's Centre for a self-guided tour.
There are also two remaining heritage lectures.
On September 15, Prof Neville Alexander will talk about the role of the university in the intellectualisation of African languages; and on September 22, Prof Pumla Gobodo-Madikizela will deliver a lecture titled Transcending Trauma and the Legacy of the Past: The Moral Imagination.
Both lectures will be at 17h30 for 18h00 in the Leslie Social Sciences Building (Lecture Theatre 2D).
Musicology conference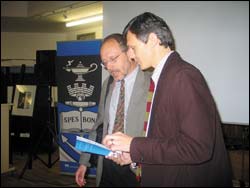 (From left) Prof Gary Tomlinson (University of Pennsylvania) was the keynote speaker at the congress, pictured in conversation with Stephanus Muller.
UCT hosted the 32nd Annual Congress of the Musicological Society of Southern Africa, which this year ran concurrently with the 19th Ethnomusicological Symposium. The congress attracted around 100 delegates, including an interest group of music librarians from all over the country. The keynote address, Paleomusicology: Where and When Humans Began to Sing, was delivered by Prof Gary Tomlinson of the University of Pennsylvania.
Student Leadership Awards
Nominations for this years's UCT Caltex Student Leadership Awards have been invited. The awards acknowledge the outstanding and selfless contribution made by student leadership in advancing UCT's vision, mission and values. For more information on the categories and to obtain forms, please contact Jerome September at jseptem@its.uct.ac.za or on 650 4647. Forms are also available at http://www.sdsd.uct.ac.za. The closing date is September 23.
Job prospects
Maskew Miller Longman, the leading education publishing company in South Africa, is recruiting entry-level trainee editorial project managers with an offer of one-year contracts for 2006. They are looking for highly organised, energetic and talented students in the fields of education, linguistics or journalism who will complete their studies in 2005. For more information contact Elizabeth Fernandes, Human Resources Officer, MML, Cape Town, fax no. (021) 531 6118 or e-mail: hr@mml.co.za. The closing date is September 16.
Also, the Learning Cape Initiative is looking for an executive officer to be appointed for an initial period of two years, subject to a mid-term performance-based review. A tertiary qualification is minimum requirement. Total annual package is R250 000 to R300 000, neg. The ideal candidate will have at least 10 years experience of working and managing education and training projects or programmes. For more information contact dangelis@pgwc.gov.za. The closing date is September 19.
---
This work is licensed under a Creative Commons Attribution-NoDerivatives 4.0 International License.
Please view the republishing articles page for more information.
---