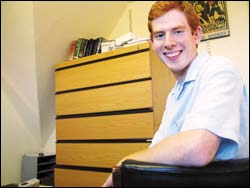 Hatching new plans: Student entrepreneur Heinrich Hanekom.
Heinrich Hanekom is the owner of Surehatch Incubators. He manufactures and sells a variety of equipment pertaining to poultry, including incubators, thermometers, thermostats, hygrometers, fertility testers, humidifiers, etc. He started his business three years ago after tinkering with an old incubator he had at home. He started his business with a meagre R150. His business has since grown to include offices in Pretoria and Gaberone, and has more than 16 agents across southern Africa. He supplies a network of more than 325 pet shops across southern Africa. Hanekom's company has exported incubators ranging in size from 40 eggs to 1 600 eggs to more than nine different countries, including St Helena, Mozambique, Angola and the Seychelles.
Hanekom, a first-year resident of Smuts Hall, attributes his success to having received the right education - both formally and informally. He went to school at Paul Roos Gymnasium where he matriculated with flying colours. He was awarded the ABSA Top Entrepreneur of the Year title in 2003 while in Grade 11.
Hanekom has garnered several other distinctive awards, including the Sanlam Future Business Leader award and the Santam Top Entrepreneur award. Paul Roos awarded him full colours for entrepreneurship in 2003, the highest distinction of its kind at the school. He was also the first student to receive this award in the school's 138-year history.
In 2001 Hanekom and his brother, Johan, founded the Student Business Leaders Society at Paul Roos. In the same year he partnered with Sanlam to establish Sanlam Entrepreneur Clubs in schools across South Africa.
In June, Hanekom showed his mettle by being selected as one of the winners in the university category of the 2005 ABSA Top Entrepreneur Competition. Part of the prize included an overseas trip to Germany, Spain and Morocco, which took place over the June holidays.
As the entrepreneur points out, it's not all glitz and glamour. His first couple of businesses were hopeless failures.
"It took a tremendous amount of determination and belief in my abilities to start a new business, knowing that the previous one had failed."
Hanekom is a keen reader of financial journals and business books. He believes that knowledge is the greatest source of wealth and that while the world can take a great many things away from you, knowledge is the one thing you will always have within you. His advice to aspiring entrepreneurs?
"Break the mould and dare to go against the flow!"
---
This work is licensed under a Creative Commons Attribution-NoDerivatives 4.0 International License.
Please view the republishing articles page for more information.
---