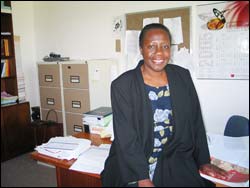 As the new warden of All Africa House, Chuma Himonga proffers an activity list, a vision of what she intends accomplishing in her three-year role.
The deputy dean of law has put intellectual exchange at the top of the list. She is keen to build on her predecessor Associate Professor Sagadevan Mundree's very successful programme of public lectures at All Africa House, what she calls "the small town-hall kind of events that give the audience the opportunity to critically engage the speaker".
The residence is a unique resource, certainly in Africa, a home for African and other scholars, fostering UCT's international links through the University Science, Humanities and Engineering Partnership in Africa (USHEPiA) programme and beyond. The only other facilities Himonga knows that come close are London House and William Goodenough House at London University, where she completed her LLM and PhD degrees.
At home in UCT's private law department, Himonga is something of a traveller herself, having built a valuable network of academic connections. A graduate of the University of Zambia, she also took up fellowship at that institution in 1976. Having completed her LLM in 1978, she took up full-time lecturing at the University of Zambia until 1981, when she again left for the UK for further studies. With her PhD under her belt, she returned to Zambia in 1985 to lecture there.
Later she took a teaching and research post at Germany's University of Bayreuth, at the chair of law and economics, examining issues of identity and processes of change in post-colonial Africa in an interdisciplinary research project. In the watershed year of 1994, she took a bold step and came to South Africa to lecture at UCT, bringing her two children along (both are students here).
"I wanted to experience the changes that would come with transition," she said.
On the legal front, there were many. Initially, she wrestled with the shift from the English common law system she was educated in to the Roman Dutch system used here. Then there were the fast changes in the areas of family law and African customary law, precipitated by the Bill of Rights in the Constitution of the Republic. Of course, the field of family law is changing fast worldwide, due largely to the impact of human rights on private relationships, so fast that researchers and scholars struggle to keep a grip on the metamorphosis, she adds.
Her areas of teaching and research at UCT are law of persons, and marriage and African customary law. Her expertise also extends to comparative family law in Africa, and women's and children's rights.
She sees All Africa House creating a conducive environment for advancing various tenets of UCT's mission, especially those of being a research-based teaching and learning institution in Africa.
"I believe that All Africa House is also in a position to contribute to the realisation of UCT's vision of growing a global profile, as a leading university in Africa, with connections to both developed and developing countries."
She has a new support team to assist her: finance and administrative manager Patrick Rezandt, and his administrative assistant, Cally de Waal, who joined All Africa House during the past few months.
"We are delighted to have this new team," said Lesley Shackleton, chair of the All Africa House management board. "They are full of enthusiasm and will continue to build All Africa House's reputation as a vibrant intellectual home from home for visitors to UCT."
---
This work is licensed under a Creative Commons Attribution-NoDerivatives 4.0 International License.
Please view the republishing articles page for more information.
---