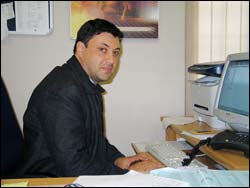 Rebuilding lives: In
Onnest'bo
Mark Fleishman tackles issues around forced removals.
Originally performed outdoors to high-school students throughout the Western Cape as part of their curriculum, Onnest'bo is a physical theatre production that highlights the issue of forced removals in South Africa.
"The real issue is that of restitution," explained Mark Fleishman, head of UCT's drama department and the production's director (Jennie Reznek directs the movement).
"We have to understand what it is that was lost and what it is that needs to be repaired. Forced removals not only depopulated areas, but also destroyed a sense of community and a particular way of life."
Created and presented by Magnet Theatre, of which Fleishman is one of two directors (Reznek is the other), Onnest'bo also builds on the idea of carnival - a joyous return - setting out to recover a sense of community and history.
"It celebrates the potential of a return, not only in a physical sense, but a return to a time of being more tightly knit as different communities within a city," Fleishman added.
Staged at the Homecoming Centre within the Sacks Futeran Complex at the District Six Museum, Onnest'bo is now being made available to a wider theatre-going audience. Fleishman says the venue also allows for more intimacy with the audience.
"When performing outside there is a large space between the audience and the stage, and there are a lot of distractions. But inside, the sense of community that is established with the audience throughout the production extends even after the curtain has come down. People enjoy being in the new theatre space and don't want to leave."
Between 1913 and 1989, some four million South Africans were forcibly removed from their homes. In 1966, in terms of the Group Areas Act, the sixth district of Cape Town was declared a white area and under the pretext of slum clearance, all the inhabitants were evicted and their homes were bulldozed. It was only in 2002 that the first land deeds were handed over to the original inhabitants of District Six.
Onnest'bo was developed in conversation with the District Six Museum and used research from the museum's archives.
The production has a cast of seven (six of whom are UCT graduates) and includes Reznek, Riana Alfreds, Stefan Blignaut, Mdu Kweyama, Jill Levenberg, Thami Mbongo and Charles Tertiens. The performance is carried out through the physical language of the body with visual images and the music used is a collage of different styles from that particular place and time. It is on until August 6.
Bookings can be made at Computicket outlets by calling 083 915 8000, online at www.computicket.com,, or through Magnet Theatre on tel 480 7173.
---
This work is licensed under a Creative Commons Attribution-NoDerivatives 4.0 International License.
Please view the republishing articles page for more information.
---