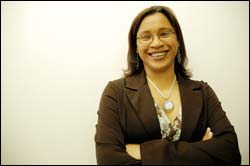 Brain gain: Tracy Beckett is off to the US for four years of study, but the UCT master's graduate plans to be back and do her bit for the country.
For the past five years, Tracy Beckett has been trying very hard to understand the link between bilingualism, Alzheimer's and ageing.
For her master's in linguistics, which she completed in June, she's been especially interested in the mechanisms that underpin language separation and language choice - and how Alzheimer's impacts that process - among bilingual Alzheimer's patients. But that's been easier said than done.
The field is so new it doesn't even have a name yet. And in South Africa, where there's a great need for this kind of expertise as more and more elderly people are responsible for raising their young grandchildren, she's the only person doing any work on the subject.
"In South Africa there are specialists in bilingualism," she says, "and there are specialists in ageing, but there is no one who is a specialist in bilingualism of ageing, an emerging international field of study. It's tough, because all the expertise and experience is in the north."
For her master's, Beckett straddled two disciplines - ageing and linguistics - that previously had no ties. She also had two supervisors in Professor Monica Ferreira of the Albertina & Walter Sisulu Institute of Ageing in Africa, and Professor Doug Young of the Centre for Applied Language and Literacy Studies and Services in Africa.
But now Beckett is going straight to the fountainhead. She's won a four-year Moody Scholarship from Pennsylvania State University (PSU) in the United States, and, come August, she heads to the university's Department of Linguistics and Applied Language Studies (Lals) for her doctoral studies in applied linguistics. At Lals, there are scores of researchers doing work on bilingual/multilingual speech communities with acquired communication disorders.
Among the sages is Associate Professor Sinfree Makoni, the one who first introduced Beckett to the subject when he was still teaching at UCT a few years back.
"PSU has one of the biggest concentrations of applied linguists working in the area of language and ageing," says Beckett. "And Sinfree works on ageing in Africa, which is explicitly relevant to my interests, and there are not many scholars working in that area in the US or indeed in the world."
This is not going to be another case of brain drain, promises Beckett. Quite the contrary.
"I want to come back, and I want to bring my knowledge back home," she says. "That's the only way we're going to create specialists in our area, by bringing it back home."
That's her way of giving back, she says.
---
This work is licensed under a Creative Commons Attribution-NoDerivatives 4.0 International License.
Please view the republishing articles page for more information.
---