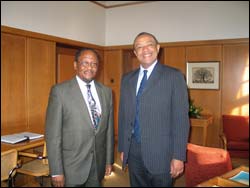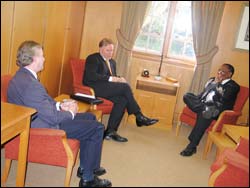 VC meets high commissioners
The Vice-Chancellor, Prof Njabulo Ndebele, met the Right Honorable Paul Boateng, British High Commissioner at his offices recently. This was followed by a visit from the Australian High Commissioner, Philip Green, a meeting also attended by Professor John Gibson of the Institute of Marine and Environmental Law.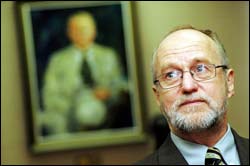 Minister scouts out research areas at UCT
Derek Hanekom, deputy minister of science and technology, received a whirlwind introduction to science research at UCT when he visited the campus for an afternoon in June. Hosted by DVC Prof Cheryl de la Rey, the fact-finding stopover allowed UCT researchers the opportunity to pitch their work to Hanekom and his department, which holds some handsome purse strings. Hanekom's first stop was the Computational Chemistry Laboratory that houses, among other things, three Beowulf computer clusters, which are parallel computers used to process large calculations required in chemical and biophysical research across the university. He then moved on to the DST-NRF Centre of Excellence in Birds as Keys to Biodiversity Conservation at the Percy FitzPatrick Institute, where he gave ear to faculty and postgraduates talking about their latest research in the field. Finally it was off to c*change: the DST/NRF Centre of Excellence in Catalysis, based in the Department of Chemical Engineering, which does frontline work on industrial chemical processes.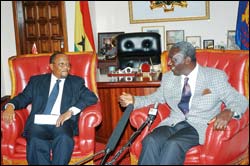 Bolstering support: Vice-Chancellor Prof Njabulo Ndebele (left) met with Ghanaian President John Agyekum Kufuor in Ghana to discuss the future of the Association of African Universities (AAU) of which Ndebele is president
University heads meet in Ghana
As president of the Association of African Universities (AAU), Vice-Chancellor Professor Njabulo Ndebele travelled to Ghana in June for the first meeting of the organisation's executive board. As part of a leadership workshop, the AAU's executive board was able to map out plans for their four-year tenure. "It was also an opportunity for the new board members to get to know one another," explained Ndebele. "Our members come from different parts of the continent and they bring a richness of individual experiences from their own universities and countries." After spending two days reviewing higher education in a global context, the members decided it was important to enhance the financial sustainability of the AAU by strengthening its funding base. "We are also aware that we need to improve the visibility of the AAU in Africa, making its presence felt in individual member universities, as well as within the African Union and Nepad initiatives," said Ndebele. Ndebele was also granted an audience with Ghanaian President John Agyekum Kufuor, who pledged his support and that of the Ghanaian government to the AAU. "President Kufuor will engage with other heads of state to ensure that all African leaders who are members of the African Union renew their commitment to higher education in Africa through supporting the AAU," Ndebele added.
---
This work is licensed under a Creative Commons Attribution-NoDerivatives 4.0 International License.
Please view the republishing articles page for more information.
---