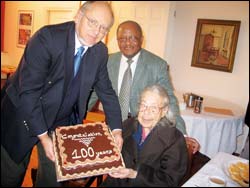 Tea for three: UCT centenarian Leah Levy with the VC, Prof Njabulo Ndebele (right), and DVC, Prof Martin West, who celebrated her milestone birthday at Welgelegen, in suitable style.
The invitation read: tea for Ms Leah Levy. The icing on the cake said: Congratulations - 100 years. June 18, 2005, was destined to be a memorable day. Not only is Ms Levy a UCT alumnus, but the centenarian also invested almost four decades of her working life with the institution. Guest of honour at a 100th birthday party hosted at Welgelegen by the Vice-Chancellor, Professor Njabulo Ndebele, and Deputy Vice-Chancellor, Professor Martin West, Ms Levy recalled the early years at the university. She registered for study in 1924, graduating with a BA in 1926. It was an era of cloche hats and Eton Crops, when Josephine Baker was a box-office hit. Much of the university campus was in town and The Prince of Wales was the first Chancellor. "The campus looks very different now. I don't recognise it," Ms Levy commented. She joined the UCT staff in 1965, and recalled West as a student. He remembers her very well as head typist and secretary to three departments: social anthropology, African government, and languages and archaeology. Each department was allocated a day of the week for her attention. "If you called for a pencil on the wrong day," West said, "she'd open the door and say: 'Sorry, it's not your day', and close it again." Still in good health and blessed with good eyesight, Ms Levy still types her own correspondence and loves murder mysteries by that other grande dame, Agatha Christie. And she is still active - the week following her birthday she was signed up for computer lessons. Ms Levy played down the significance of her age, saying she drove a car until she was 95. "It's just another birthday," she commented.
---
This work is licensed under a Creative Commons Attribution-NoDerivatives 4.0 International License.
Please view the republishing articles page for more information.
---