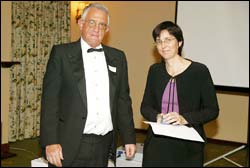 New Fellow: Prof Sue Harrison.
Chemical engineer Professor Sue Harrison has been elected a Fellow of the South African Academy of Engineering, the first woman at UCT to be honoured in this way. Only one other South African woman has been honoured in this way.
She joins other fellows from the university: Professors Cyril O'Connor, dean of engineering and the built environment, George Ekama and Heinz Rüther (engineering and the built environment) and Daya Reddy, dean of science.
The fellowship acknowledges Harrison's contributions to the field. A former head of department, she is director of UCT's Bioprocess Engineering Research Unit.
"Bioprocess engineering is a key requirement of the nascent biotechnology industry in South Africa, being developed in accordance with the National Biotechnology Strategy, and UCT is a proud contributor to both knowledge generation and the development of people with expertise in this field," she said.
Harrison's contributions here centre on the interaction between physicochemical, thermal and flow properties and the microbial metabolism, with applications extending from well-established fermentation processes through minerals bioprocessing to novel processes for new bioproducts. She is also responsible for the MSc programme in bioprocess engineering and has a continued involvement as a trustee of the Cape Biotechnology Trust, the Western Cape's biotechnology regional innovation centre (Bric).
Harrison recently returned from the Department of Chemical Engineering at Cambridge University where she was a Zeneca Senior Visiting Fellow. An alumnus of that university, she completed her PhD there between 1987 and 1990, working on the extraction and purification of PHB materials (biodegradable plastic) from Alcaligenes (re-named Ralstonia) eutrophus.
As a Zeneca Senior Visiting Fellow, Harrison worked with John Dennis to develop a new lecture course for the MEng class, called Sustainability in Chemical Engineering. This aims to quantify concepts of sustainability while providing an overview of the impact of human activity on the earth and an awareness of the expanding challenges of sustainable development from the process industry perspective.
The course was also introduced at UCT in 2005 (CHE564Z) and a lecture exchange has been established, with Harrison lecturing in Cambridge during the Lent Term and Dennis contributing to the course at UCT in April. They have established research collaboration in sustainability and are exploring the possibility of extending this to novel PHB-type materials, a biodegradable plastic.
Among its activities, the academy promotes engineering as a means of improving the quality of life for all South Africans. Harrison looks forward to opportunities to interact with their activities in the latter area.
---
This work is licensed under a Creative Commons Attribution-NoDerivatives 4.0 International License.
Please view the republishing articles page for more information.
---