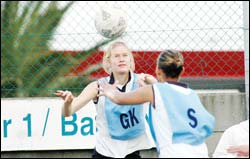 No stopping us now (Above): Christina Gessner (GK) gets the ball moving to captain Keeyan Dick (S) as UCT kept up its winning ways in the WP netball league.
Hockey (men): The men's A team has hardly experienced a hiccup this season. And on June 4 they continued their sublime form by beating Stellenbosch 2-0. They've now sneaked ahead of Pinelands and Western Province Cricket Club A at the top of the Grand Challenge log, leading both sides by one point. UCT B is rock bottom of the league, however, having managed only one point so far this season.
Hockey (women): True to form, Gardens, yet to win a game this season, eked out its umpteenth draw by holding UCT to a goalless stalemate on Sunday, June 5. Both sides came close to scoring - Gardens perhaps more than UCT - but neither could deliver the coup de grâce. Gardens will again rue wasting all their chances, just as they did in the sides' first 2005 encounter when UCT just pipped them 1-0. The recent 0-0 result got under the nose of the UCT women, though. "We said before the game that we would have to match them for heart, and want to win as much as they did," says captain Natalie le Brun.
"Perhaps we fell just short of that." UCT is currently in third position on the Grand Challenge log, but has one game in hand over league leaders Stellenbosch (13 points ahead of UCT) and two games in hand over Western Province Cricket Club, which has a slim two-point lead over UCT. UCT plays Stellenbosch on June 16.
Netball: Much to their own surprise, the UCT first team has finished fourth on the WP A1 league, thanks in large part to a recent run of wins. Their good form continues. Now in a playoff stage that includes teams from the A2 league, UCT went up against Durbanville B on June 4. Still without its injured star performers Nosisa Dimba and Nolitha Matshikiza, the side struggled but managed to keep Durbanville at bay in an uphill 36-33 win. Apart from injury woes, the next problem is to keep the students motivated while they worry about exams, says coach Louise Cameron.
Rugby: Days have been dark for the FNB UCT team. And getting darker - the side has suffered its sixth consecutive defeat, losing 14-30 at home to Parow's NNK on the evening of Friday, June 3. The latest loss sees them slump to second from bottom on the Super League A1 log, just one point ahead of SK Walmers, whom they lost to a few weeks back. There have been some bright performances for the team, though, and these are being rewarded. Craig Kleu and Herbert Mayosi have been selected for the Sassu national student team to play in a curtain raiser to the SA/Australia Tri-Nations match at Ellis Park on July 23.
Volleyball (women): After struggling to find its rhythm, the women's first team finds itself in fifth position after round one of the Western Province competition. "The team was gathering some momentum towards the end of the semester," says the club's Joachim Schuckmann, "but increased varsity workload did take its toll on some players, and most of them are looking forward to the vac." First- and second-team members will join forces to make up a UCT team for the upcoming SASSU inter-tertiary games in Port Elizabeth.
Volleyball (men): After a nine-win blitz, the UCT first team proudly topped the Western Province Volleyball Union league some way into the first round. However, as the semester drew to a close, the men - just as the women did - began to feel the pressure of academia weigh heavily on them. As a result, UCT lost their last three matches of the round. The fact that the defeats came against some of their stiffest competition in the league provides little consolation, says player Joachim Schuckmann.
---
This work is licensed under a Creative Commons Attribution-NoDerivatives 4.0 International License.
Please view the republishing articles page for more information.
---