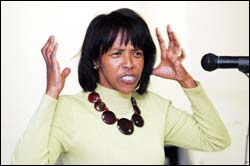 Active activism: Dr Cheryl Carolus wows the audience at the first of UCT's Youth Day commemorations.
The Transformation Office launched its Youth Day programme with an evening of remembering and reflecting, with the focus very much on activism at university and technikon campuses during the 1970s and 1980s, on May 26.
Speaking were the likes of the irrepressible Dr Cheryl Carolus, erstwhile member of the South African Students' Organisation (SASO) and currently chairperson of the SA Parks Board, and husband Graeme Bloch, a member of the UCT SRC of 1976 and now with the Development Bank of South Africa, who both looked back at student activism during those troubled times.
"I want to argue that 1976 spelled in many ways the coming of age of the next generation of struggle," said Carolus after outlining the underpinning liberation movement of the 50s and 60s in South Africa.
"It was the coming of age of the phase of mass struggle, and communities becoming involved, and of mass democratic organisations - a legacy that I sometimes think we're in danger of losing." Carolus rounded off with a few words of caution for the current generation of students.
"We're beginning to be a nation in the making," she said. "But there's still a lot of work to be done.
"As a gogo, someone who has lived for more than 29 years, I do want to say that if our young student population is not going to ask questions, is not going to challenge, is not going to develop theory and is not going to actively apply that theory and engage in struggle, then we are a generation in serious trouble."
But, borrowing a putdown former UCT vice-chancellor Dr Mamphela Ramphele once flung at a speaker at a political meeting, Carolus committed herself to keep students on their toes. "I have no intention," she promised, "of leaving you to become a bunch of petty, pathetic political driftwood." In turn, journalist and poet Sandile Dikeni whipped up the room with a performance of some of his earlier verse - including Hell's Protection, inspired by his first stint in detention in 1986, and the memorable Guava Juice, his ode to the Molotov cocktail - as well as some of his current works.
Dr Saleem Badat, CEO of the Council on Higher Education, and UCT firebrand Nqobizitha 'Fire' Mlilo, president of the SRC, also featured on the evening's programme.
In addition, recognition awards were handed to three staff members from the Student Development and Services Department - Glen Anderson, Trevor Davids and Manie Fagan - who were at UCT in 1976, for their telling contributions to the university.
The Transformation Office also hosted a transformation seminar last week, with speakers vice-chancellor Professor Njabulo Ndebele, Professor Crain Soudien of the School of Education, and Dr Zimitri Erasmus of the Department of Sociology. The office will stage a Youth Day Cultural and Music Event on June 11 (see ad on the right), as well as a photographic exhibition, titled UCT Students in Action, on June 30.
---
This work is licensed under a Creative Commons Attribution-NoDerivatives 4.0 International License.
Please view the republishing articles page for more information.
---