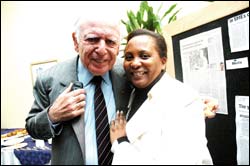 Business buddies: Raymond Ackerman with entrepreneur Anne Matlala at the GSB's entrepreneurial open day last week.
What makes a good entrepreneur? Perseverance, passion, a belief in yourself, and good contacts. So say the experts - the entrepreneurs themselves.
Last week, a group of small-scale entrepreneurs got together to exhibit their wares and share their inspirational stories at a special open day held at UCT's Graduate School of Business (GSB). The event was an initiative of the GSB's Centre for Innovation and Entrepreneurship (CIE), dedicated to promoting entrepreneurship in the Western Cape and South Africa.
Among the entrepreneurs showcasing their goods at the open day was Rafeeq Thompson from Paarl. Thompson runs a company called Mbroidery that adds embroidered finishing touches to garments - very popular for corporate gifts - but has also started to manufacture garments. For Thompson, keeping focused on your goals is an important aspect of being an entrepreneur.
Painter and muralist Lungile Twako believes that making sure you have the right business skills - and passion - is vital to success. "One has to have passion for what you do, and for the business side of it, so that the quality you produce is good," he says.
At the open day, students from the inaugural class of the Raymond Ackerman Academy of Entrepreneurial Development, launched at the centre in February, also spoke. Patron Raymond Ackerman was at the event to give a few words of encouragement in person.
Speaking at the open day, Mike Herrington, director of the CIE, said that the centre was proving daily how important entrepreneurship is to the economic future of South Africa.
"Both through our ongoing research and teaching at the business school and through our daily contact with entrepreneurs, we are witnessing the quality of the contribution that entrepreneurs large and small are making to this country," he said.
---
This work is licensed under a Creative Commons Attribution-NoDerivatives 4.0 International License.
Please view the republishing articles page for more information.
---