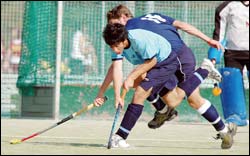 In step: Ashley Hendrickse of UCT B (in front) evades a challenge from UCT A's Adam Wilson (15) in the recent derby.
Athletics: The UCT women's team finished second - one spot up from its 2003 and 2004 finishes - in the 8km race at the cross country league meet at the Bellville campus of the Cape Peninsula University of Technology (CPUT) on May 21. The team of Unice Vorster (who came in fourth), Lauren Stewart (eighth), Helen Clark (11th) and Karla Burger (15th) finished only three points behind the traditionally strong Adidas women's squad, who have won the league for the past three years. In the men's 12km Nelson Bass race at the event, the UCT team of Will Robinson, Ian Rogers and Mpho Morabe had to settle for 24th place in a formidable field. In the veteran men's 8km, Professor Michael Meadows had a good run, as did Carrie Ritter (fourth) in the women's 4km.
Hockey men: In the UCT derby on May 21, UCT A cruised to a 5-0 victory over UCT B. That's good news - and a bonus point - for the A side, trying to get their noses ahead of title contenders Pinelands. Not so for the B side, still trying to record their first win of the season.
Netball: With goal shooter Melanie de Beer fighting fit again, the netball first team is staging a goal-happy revival in the WP A1 league. De Beer was firing on all cylinders in UCT's 55-28 walkover over Olympians A on May 21. "We would have struggled before," admitted coach Louise Cameron, alluding to the spate of defeats to even the league's weaker sides during De Beer's absence. But Cameron's injury worries continue. First-choice players Nosisa Dimba and Nolitha Matshikiza were injured the week before, and are both on crutches.
Rugby: When you're hard-up for wins, the last thing you need is a referee too willing to draw his yellow cards. But that's what UCT had to contend with, according to players and backroom staff, in their 24-30 home defeat to Tygerberg on May 21. Three UCT players received yellow cards in the match, mostly for chirping the referee as a couple of crucial decisions went against the side. That frustration (and occasional lapses in discipline) may have led to UCT's downfall, as they allowed Tygerberg to run in two tries in the last 10 minutes to clinch the game.
Squash: "Youth and fitness does help us out on occasion," says Annie Aling, captain of UCT, one of the only two student sides in the WP league. How true those words turned out to be in the team's 4-0 win over the more senior and experienced women of Bergvliet - a squad that includes UCT staffer Shirley Whitmore, who just a few years ago won the Master's division at the National Squash Championships. On the night, Gina Robinson, Angela Bonora and Aling all won their matches by three matches to love. But two sets down in her match, Aling had to advise first-year Andrea Naidoo to drag out the rallies and run her rival ragged. Naidoo did just that, and won the contest 3-2, proving that every so often the vigour of youth will trump even the wile that comes with age.
---
This work is licensed under a Creative Commons Attribution-NoDerivatives 4.0 International License.
Please view the republishing articles page for more information.
---