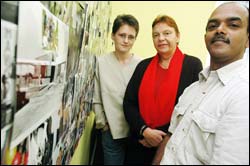 Looking forward: In front of a wall of photographs celebrating Shawco's achievements over the past 60 years, fundraiser Anna du Bois, admin assistant Wendy Cornilieus and director Varkey George contemplate the organisation's bright future.
Towards the end of 2003, storm clouds were brewing over Shawco, aka the Students' Health and Welfare Centres Organisation.
Around R1-million in the red and in internal muddle, the organisation was digging into its precious reserves and on the brink of closing its doors. That would have spelled the end of more than 20 outreach projects in local communities like Kensington, Khayelitsha, Manenberg and Nyanga, including the five mobile clinics from which medical students provide sought-after primary care to hard-up townships, the adult day-care centres frequented every day by scores of retirees and disabled, as well as the stable of sport, arts, meals-on-wheels and teenage-centred projects.
"Things were pretty desperate," recalls Dr Johann Graaff, who had stepped in as chairperson of the Shawco board at the time to help turn things around. To keep the ship afloat, the organisation tightened its belt and painfully trimmed its suite of programmes.
It also appointed Varkey George, who had just led mirror organisation the Wits Rural Facility at Wits University out of its financial woes, as its new executive director.
With his motto of Together we can make it happen as his talisman, George firstly mended bridges with demoralised staff, Shawco's student executive and affiliated groups like Rag. He gave managers free rein (and demanded only accountability). He set up what he calls the organisation's "conscience" - an executive made up of himself, the chairperson of the board, a staff representative and Shawco's student president - that would oversee and direct the organisation. And offering the Shawco drivers honey rather than vinegar (he sold some of the organisation's vehicles to them, allowing them to start their own business with Shawco as their main client), he got them to change their working hours and so do away with their expensive daily overtime claims.
By the end of 2004, Shawco was back on sound financial footing, a mere R600 in debt. It went into the black early in 2005.
But just getting by was no longer good enough for Shawco. In June 2004, George and his team set up Shawco Enterprises, an umbrella money-making venture that would generate additional income and so make it less reliant on its benefactors.
"There's a general trend that NGOs become as self-sustainable as possible," says Anna du Bois, the organisation's fundraiser, of the new tack.
Under Shawco Enterprises, the organisation runs short-term academic programmes from UCT, tailoring courses for international universities to take part in Shawco projects and attend lectures on Africa. It has outsourced transport services to UCT, churches and schools during its downtime, with a share of the profits going to the drivers. It has also placed coin boxes at venues around campus, allowing UCT staff and students who cannot take part in projects to donate their small change. In addition, the organisation is looking to set up partnerships with small businesses in its outreach communities, creating job opportunities for locals and making money for Shawco. It has also teamed up with Harper Gillis Toys in the US, with which it hopes to manufacture and market Shawco-branded sports goods. (Harper Gillis donated 500 Shawco T-shirts to be sold on campus.) Already, the fledgling Shawco Enterprises has turned a profit of around R50 000. But George is aiming even higher.
"My hope and wish for Shawco is for it to have R20-million in investments five years down the line," he says. "And we can then live off the interest alone for years to come."
And never have to go hat in hand to donors' doors again, notes Du Bois.
---
This work is licensed under a Creative Commons Attribution-NoDerivatives 4.0 International License.
Please view the republishing articles page for more information.
---