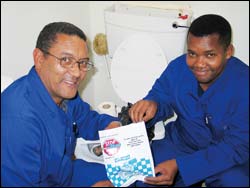 Eau de toilet: Rochester House residence handymen Lesley Daniels (left) and Moses Matyeni prepare a simple, water-saving Hippo bag for the cistern.
Rochester House has them, and so does Groote Schuur Residence. Smuts and Fuller boast them too, as do Baxter Hall and Varietas.
In fact, no water-saving UCT residence should be without them. Hippo bags are the latest thing in water conservation and the City of Cape Town has given the university 1 300 of the specially-designed thick plastic bags for use in residence loos.
"We have 572 loos. That's a lot of flushing," Rochester House's Viv Hamman told Monday Paper. Crammed into a small toilet at the residence we watched handymen Lesley Daniels and Moses Matyeni go to work, flushing the loo and then slipping the open-necked bag under the ball valve until it had filled, displacing a good deal of water that usually goes, well, down the toilet.
The blurb on the bag says they save between 2.5 and 3.5 litres of water per flush. Quite a substantial addition to the City's water resources over a year.
"You get the price of the bag back in two months," Hamman points out.
Unfortunately, not all cisterns are big enough to take them; the smaller 6-litre models don't accommodate them.
The measure is but one of many that encourage students to conserve water, says Glenn von Zeil, operations manager (student housing administration) and warden of Groote Schuur Residence. A five-minute sluicing instead of an indulgent wallow can save 100 litres of water.
---
This work is licensed under a Creative Commons Attribution-NoDerivatives 4.0 International License.
Please view the republishing articles page for more information.
---