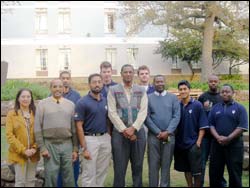 Home makers: The Kopano residence management team are from left back, David Davids (maintenance technician), Patrick Craig (house committee), Ross Robertson (head student) and Tshepo Baloyi (house committee); and from left front, Hilary O'Connor (receptionist), Cavin Pietersen (assistant supervisor), Georgie George (deputy warden), Desmond Williams (residence operations manager), Prof Evance Kalula (warden), Arun Varughese (house committee) and Gondai Mapfumo (senior subwarden).
As a parent, Desmond Williams knows about the challenges of raising children. That's probably a good thing considering the fact that he is responsible for creating a home- away-from-home environment for the 360 young men who live in Kopano residence.
Williams, a residence operations manager, also sees to the daily running of Smuts and Groote Schuur residences and is tasked with ensuring that all buildings and grounds are maintained and secure.
Having worked for UCT for 34 years and having been involved with residences since 1996, Williams says he enjoys his daily interactions with students.
"The students come in and talk to me all day," he explains. "With all their problems I always tell them to hang in there and that whatever it is they are facing will pass. I also try to get them to think of us as their extended family. It is important that we all live together as one unit."
The softly-spoken Williams throws his head back and laughs when asked about the characteristic mischief of the denizens of his residences.
"It's all part of the cycle and routine of residence life," he quips. "Some of them are just trying to push your buttons and test your limits."
Williams and his team, which includes Cavin Pietersen (assistant supervisor), Hilary O'Connor (receptionist) and David Davids (maintenance technician), were nominated as Monday Paper Five-Star Staffers by Kopano's deputy warden Georgie George.
George said the team should be recognised for their efficiency, hard work and dedication.
"Cavin knows all the students by name and Desmond's valuable input when it comes to handling the students contributes to the successful running of our residence.
"As a token of our appreciation and in honour of Workers' Day, we presented the team with a fridge and a microwave so that we could improve their working conditions. They have done a sterling job," George added.
For Williams it is the regular meetings, spelling out the various short- and long-term goals for the residences, and the assistance of his team that ensures things run smoothly.
"I like to stay close to the goals that I set for myself. I always prioritise tasks and try to get to the most important things first. But I must confess that I'm a procrastinator and I need deadlines. I thrive under pressure."
---
This work is licensed under a Creative Commons Attribution-NoDerivatives 4.0 International License.
Please view the republishing articles page for more information.
---