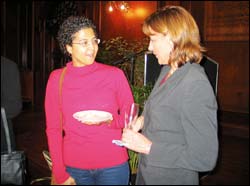 Meeting place: New NRF-rated researcher Dr Tania Douglas (human biology) in conversation with Dr Marilet Sienaert, director of the research office.
DVC for research and innovation Professor Cheryl de la Rey joked that it is the only occasion that university researchers get something from the research office without having to fill in a form.
It was the annual celebration of UCT's new rated researchers, some 24 newcomers to the ranks of National Research Foundation's (NRF) accredited academics following the most recent round of what some describe as an often "brutal" evaluation system.
Guest speaker and president of the NRF, Dr Khotso Mokhele, told the gathering in the Smuts Hall dining room that the Minister of Science and Technology planned to inject over R2-billion into the research and development aspects of science and technology in the country.
He challenged the research community to make their voices heard.
"There's too much silence from higher education around research and innovation in this country. You need to be heard."
At the function, recently-retired Professor Luigi Nassimbeni (chemistry) paid tribute to NRF vice president Dr Gerhard von Gruenewaldt, who is also retiring.
(The list of newly-rated researchers is: I Ansorge (oceanography), P Beighton (clinical laboratory sciences), R Cameron (political studies), D Chidester (religious studies), J Cochrane (religious studies), K Collins (social development), B Cooper (Centre for African Studies), J-L Cornille (languages and literature), M de Villiers (statistical sciences), T Douglas (human biology), C Firer (GSB), I Greenberg (clinical laboratory), A Kalla (medicine), T Koelble (GSB), A Lewis (chemical engineering), A Mall (medicine), B Mayosi (medicine), P Moyo (civil engineering), B Rayner (medicine), D Root (construction economics and management), P Schwikkard (criminal justice), H Segal (clinical laboratory sciences), G Swingler (child and adolescent health), and N Worden (historical studies).
---
This work is licensed under a Creative Commons Attribution-NoDerivatives 4.0 International License.
Please view the republishing articles page for more information.
---