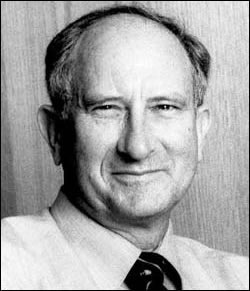 Professor Clifford Moran
UCT's former Dean of Science from 1986 to 1998, Professor Clifford Moran, received an honorary doctorate in science from Rhodes University at an April graduation ceremony.
Moran served on the UCT Council for nine years. Before his appointment here the renowned biologist was head of the entomology department at Rhodes and served as their Dean of Science from 1983 to 1985.
Speaking at the science faculty graduation ceremony, Moran urged students to analyse their acquired skills, learn how to manage money and how to make personal strategic planning an integral part of their lives.
He warned that degrees were not enough to ensure success in life. The world, he said, was crowded with talented, highly-motivated young scientists trying to make their mark.
To gain the competitive edge, graduates had to take stock and devote time and energy to honing those vital skills that were weak in their present academic portfolios.
Moran is still active in research, publication, consultation and leadership work in his field, the biological control of invasive plants, an area in which he is acknowledged as a world leader. He received a National Research Foundation A rating (1992-1996) for his work, and was the first South African entomologist to receive this honour.
In 1991 he was made a Fellow of the Royal Society of South Africa and of UCT. In 1994 he became a founder member of the South African Academy of Science. A year later the Entomological Society of Southern Africa made him an Honorary Fellow and in 1999 elected him to Honorary Life Membership.
---
This work is licensed under a Creative Commons Attribution-NoDerivatives 4.0 International License.
Please view the republishing articles page for more information.
---