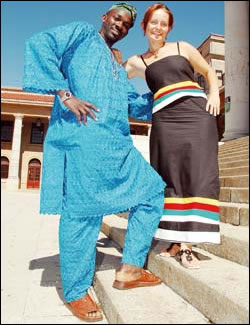 Dressing up: Colins Imoh and Kätlin Roovik show how it's done.
A group of students at UCT has launched a campaign to encourage members of the university to wear African-style clothing on Fridays to inculcate the spirit of Africa on campus.
The idea arose during a lunch-hour discussion between a group of international students who were bemoaning UCT's apparent lack of African identity, notwithstanding its diverse community.
Explains Colins Imoh, a student of environmental management from Nigeria: "We were discussing the idea of how UCT could become a truly African university. UCT has a beautiful campus but it is a campus that could be anywhere in the world. People come here for various reasons, but one of them is to come to Africa to see how Africans do things."
Imoh said even those African students who brought their traditional clothing with them sometimes felt self-conscious about wearing it on campus.
"There are cases of students who actually come with African clothes but are too shy to wear them. It is our wish to give these students an opportunity to do this, with the support of the university."
In agreement is Kätlin Roovik, an Estonian who has come from Norway to UCT to study social anthropology and gender studies. She said it came as a shock to her when she saw so little evidence of African dress on campus.
"I really expected it to be more African. I don't want to support all American clothing," she said. Roovik has found a dressmaker in Claremont who has run up some African-style dresses which she intends wearing on Fridays. In this way, she feels she is also supporting the local economy.
And for those who are hesitant to don completely African attire, the group suggests they could focus on accessories, be it jewellery or a hairstyle, to emphasise their African roots.
As a first step, they have approached UCT Radio to talk about their idea and also intend starting a poster campaign. They have met with UCT deputy vice-chancellor Professor Thandabantu Nhlapo who has given it his full support. In addition, it enjoys the support of the societies of Nigerian, Congolese and East African students.
The campaigners say what constitutes African dress is up to the individual to decide, given the vastness of the continent and the variety of cultural identities. They also stress that participation is voluntary and if students from abroad also wish to wear cultural attire on Fridays, this would be welcomed, as it emphasises UCT's diversity.
---
This work is licensed under a Creative Commons Attribution-NoDerivatives 4.0 International License.
Please view the republishing articles page for more information.
---