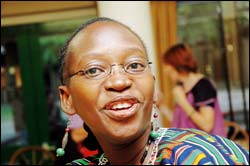 It's great to be here: Like her fellow associates at the AGI, anthropologist and writer Stella Nyanzi is looking forward to her distraction-free research and writing over the next few months.
Stella Nyanzi came to UCT with a five-year backlog of writing she wants to catch up on.
Between work, trying to complete a host of books and songs, slogging away on a doctoral thesis, being a mother to a young baby and the duties that come with a large extended family, the Ugandan anthropologist and writer finds few opportunities for putting pen to paper. "The problem is that there's just no time for writing," she laments.
That's a gripe common to the six scholars and writers recently welcomed by the African Gender Institute (AGI) as the latest and last intake of its five-year old Associate Programme. Established in 2000 and funded by, among others, the Rockefeller Foundation in New York, the programme set out to give women intellectuals in Africa the chance to break free from their routines, and instead spend a few months at UCT to work on research or writing projects of their choice.
Which is why the group couldn't sing the praises of the AGI enough for the time and headspace to read, research and write without distraction over the next few months. "I am just so grateful and privileged to be here," said Dr Eunice Nyamasyo, director of the Centre for Gender Studies at the Kenyatta University in Kenya. These words were echoed, almost verbatim, by each of the others as they start their stints at UCT.
The associates' projects are varied, but all centre on gender concerns. Anne Kiome-Gatobu, also of Kenya, will look at socio-cultural and religious issues related to domestic violence against women in her country. Mweru Mwingi, the third Kenyan in the group but based in South Africa, will examine the extent that girls take up science and technology education in Kenya. Anthropologist Nyanzi's work will be on ritual sex and policy among the Buganda people in Uganda. Chiedza Musengezi, founder member and director of NGO Zimbabwe Women Writers, will focus on women prisoners, comparing the experiences of women in Zimbabwe with those in South African prisons. Nyamasyo of Kenyatta plans to document the construction and production of gender studies at Kenyan public universities. And Dr Angela Chinyere Nwagbara of Nigeria, who did her doctoral thesis on author Wole Soyinka and the way he portrays women in his novels, will include Soyinka's other prose, as well as his poetry and non-fiction, in a new analysis.
Naturally, the AGI is sad to see the successful but resource-intensive associate programme come to a halt, says Professor Amina Mama, chair of gender studies at UCT. But, she adds, the project has spawned a series of just-as-successful initiatives at the AGI, such as the journal Feminism Africa and regular interactions with scholars, which will go on unabated. "It's about what you choose to do at any given time, given the constraints," she told the new associates.
Anyone interested in contacting the associates can do so through Joy Hunter at hunter@humanties.uct.ac.za, or Bennet at jbennett@humnaities.uct.ac.za.
---
This work is licensed under a Creative Commons Attribution-NoDerivatives 4.0 International License.
Please view the republishing articles page for more information.
---