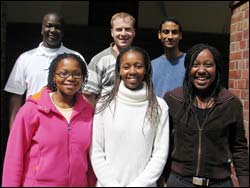 Future leaders: Those involved in the 2006 International Youth Leadership Africa Conference are: (from left, back) Veli Ngubane, CEO of Khensani Africa; William Webster, executive director of Civic Concepts International; and Aadil Volkwin, project logistics co-ordinator. (From left, front) Matshidiso Selokoma, corporate relations; Tendai Banda, education co-ordinator; and Gugu Zuma, PR for Khensani Africa.
With only a year to go, preparations are underway for the 2006 International Youth Leadership Africa Conference. The conference, which will be held at UCT from January 9-14, 2006, is set to bring together 200 students from all over the world to discuss the major issues facing Africa.According to William Webster of Civic Concepts International, the company sponsoring the event, the conference is designed to give the next generation of world leaders a forum to showcase their leadership skills.
"The conference is about encouraging global citizenship and an understanding of the most important international issues we face today.
"Through classroom simulations, field trips and organised activities, we give students a fun, educational and personally rewarding international experience they will remember forever."
Students will debate topics and issues in simulated forums such as the African Parliament or the African Human Rights Court. These activities will be complemented by guest speakers and site visits.
UCT business science student Matshidiso Selokoma has been fortunate to attend a similar conference before, and believes that UCT and Cape Town are the ideal venue to host the conference.
"South Africa has taken a different path to solving its issues and problems and we want to share this with the rest of the world. And besides there is so much to see and do here."
Selokoma says the grand finale for the week will be a mock African parliament simulation.
"There will be eight caucuses that will focus on a specific issue concerning Africa today and in the future. They will present and debate courses of actions and possible solutions, which will ultimately be placed in a final draft resolution. This statement will then be presented to the media and governments in the region."
For more information on the conference visit www.civicconcepts.org or contact Matshidiso Selokoma on 072 299 7016.
---
This work is licensed under a Creative Commons Attribution-NoDerivatives 4.0 International License.
Please view the republishing articles page for more information.
---