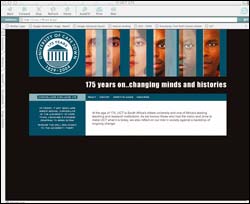 The home page of the 175 years on... Changing Minds and Histories website.
Continuing the theme of UCT's 175th anniversary celebrations, a special website has been launched to provide a comprehensive overview of the university's history.
In addition, the 175 years on– Changing Minds and Histories website pays tribute to the pioneering individuals and creative minds who have played a critical role in shaping UCT into the institution it is today.
The website also allows individuals to donate online to the Chancellor's Challenge 175 (CC175) campaign.
According to the head of online communications in the Department of Communication and Development, Rethea Deetlefs, the site was carefully designed bearing this dual purpose in mind.
"We worked hard on the site as it is an Internet home for the 175th anniversary and the history of UCT. We also wanted to make the process of contributing to the CC175 campaign easier, quicker and more convenient.
"Online donations are made via PayGate, a secure online credit-card processing facility," she added.
Deetlefs pointed out that the site can also be used to download the relevant material needed to donate offline.
After hearing about the site from a colleague, Lesley Haddow from the finance department decided to give it a try and by doing so became the first staff member to contribute to the campaign online.
"The process was really quite simple and quick - it only took about five minutes," she said. "It's good to be able to make a donation in such a direct and secure way, knowing that it is not going to be misplaced or lost. Within a couple of days I had received a letter of acknowledgment."
Haddow, who has been a UCT employee for five years, is involved in the financial aspects of various projects. She says it is the opportunity for growth within the institution that appeals to her.
"There are many opportunities at UCT to get involved in things and make a difference. With the CC175 it is an easy way to make a big difference. R175-million is a huge amount to raise, but it's like a journey that needs to be undertaken step by step. If everyone gives just a little bit, we can get there."
The website's address is www.175.uct.ac.za. It can also be accessed from the UCT website by clicking on the 175th anniversary icons.
---
This work is licensed under a Creative Commons Attribution-NoDerivatives 4.0 International License.
Please view the republishing articles page for more information.
---