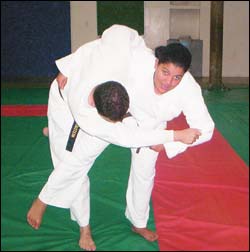 Up-and-over: Bronwyn Boesack in action.
UCT has a new superstar in the making. First-year medical student Bronwyn Boesack (18) will represent South Africa at the 17th World University Judo Championships in Moscow in December. The competition will mark the young brown belt's first overseas event. And the first time she will go up against leading international fighters, including one or two Olympians. Which means she'll experience first hand some judo fighting styles that, she admits, she is not very familiar with. The Cubans, Russians and Japanese apparently have their own take on the martial art, and plenty of novel grips. So Moscow will involve a lot of learning for the South African. Boesack is looking at the bright side of things, however.
"I want to get as much experience and new knowledge," she says. "I believe it's not only about winning a tournament, it's also about what you take with you from that tournament."
Boesack hopes to take something new to the competition as well - just before flying out to Russia, she'll be going for her black belt grading. That may give her rivals in Moscow a few things to think about.
---
This work is licensed under a Creative Commons Attribution-NoDerivatives 4.0 International License.
Please view the republishing articles page for more information.
---