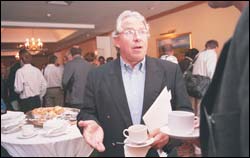 New links: John Page, the World Bank's chief economist.
Save for news of the occasional attention-grabbing coup d'état, South Africa is often pretty cut off from the chunk of the continent beyond the immediate neighbourhood. That goes for academia too. Which is why the Development Policy Research Unit (DPRU) at UCT pulled together some 200 economists and other specialists from and on Africa for a conference on African Development and Poverty Reduction: The Macro-Micro Linkage, held in Somerset West in mid-October. Western Cape premier Ebrahim Rasool (above) opened the three-day event, over which topics such as health, poverty, macroeconomic policy and unemployment were discussed. For South Africans, it was a chance to hear what's going on in the rest of Africa. "We had a critical mass of South African researchers at the conference," said Dr Haroon Bhorat, DPRU director, "and we wanted to try and hopefully get them interested in issues on Africa, beyond southern Africa." They also picked up a few tricks - a model for estimating poverty in Mozambique may well have a place among local methodologies, said Bhorat. And with John Page (above), the World Bank's chief economist for Africa, in the crowd, the gathering also allowed the Washington-based institution to set up ties with local researchers who are familiar with the lay of the land. Still reeling from this year's conference - it was a challenge to set up - Bhorat would say no more other than that there's already plenty of interest in a repeat showing in two years or so.
---
This work is licensed under a Creative Commons Attribution-NoDerivatives 4.0 International License.
Please view the republishing articles page for more information.
---