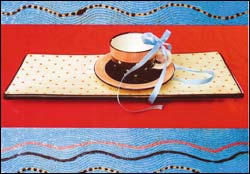 Precious pots
Precious Pots is an exhibition that runs at the Irma Stern Museum until November 27 and features the works of Majolandile Dyalvane and Madoda Fani, Fezile Ntshofu, Ernest Adams, Sibongile Siboma, Patrick Nbethe, Bafana Msize and Chris Silverston of the Potter's Workshop. It was opened by Jennifer Sorrel, and refreshments included beer, sponsored by South African breweries, in contemporary African beer pots.
Next Pass Forum
The next Pass Forum will take place on November 12 at 08h30 in the Senate Room in the Bremner Building. Finance director Professor Enrico Uliana will sketch the big picture of UCT's finances. Good news is that tea and muffins are back on the itinerary.
Wellness Week winners
Congratulations to the staffers who have won prizes in the latest Wellness Week competitions and lucky draws. Prizes from the Sports Injuries Clinic were won by M Williams (one-month's worth of Pilates classes), N Sikawuti-Duba and M Tainton (aromatherapy treatments), S Ntshongwana (shoe assessment), and Michelle White (Pilates exercise ball). Marianne Vanderschuren has netted a lifestyle analysis, a pH testing assessment and various products from Sportron. Dennis Karje and Yusuf Samuels have won Herbology hampers. Thirty seven other staffers won smaller gifts. Organiser Ottoline Clapham has extended special thanks to the visitors and participants, particularly the teams from the Lung Institute for their invaluable education and advice; to the dermatologists from the UCT Skin and Hair Clinic who assessed skin moles; and the UCT Private Academic Hospital for their health awareness insights.
Baxter News
The End Is Naai is Pieter-Dirk Uys's latest acclaimed one-man satire, which celebrates 10 years of equality and human rights in South Africa. This pageant of political punches focuses on politicians and people, and aims to put the "mock" back into democracy and expose the "con" in reconciliation. The show runs until December 4. Bookings through Computicket or call Sharon on 680 3962.
Through a series of 15 ingenious sketches, Green Mamba takes audiences on a side-splitting journey through a day in the life of our weird and wonderful country. Starring Ben Voss and John van de Ruit, Green Mamba runs until November 20. Bookings through Computicket or the Baxter box office on 680 3989.
The final performance in the 2004 Sanlam season of Play>Ground takes place on November 14 at 17h00. Die Ander Marte is the first Afrikaans entry to the project. Written by Eleanor Baker and adapted for stage by Celeste van Rooyen, the play throws light on matters of the heart of a woman. Albert Maritz directs Celeste van Rooyen in the title role of Marta with Deirdre Wolhuter and André Samuels. Tickets are available at the door or through Computicket.
Two new law degrees
In conjunction with the humanities faculty, the Department of Criminal Justice in the law faculty will be offering two new degrees with good career prospects in criminology and criminal justice. Applicants with a BA or BSocSci degree can apply for an honours degree in criminal justice (year one, with lectures in full-time hours), followed by an MPhil in criminology and criminal justice (year two with seminars in part-time hours). Both are coursework degrees with a mini dissertation. Candidates need a good undergraduate degree with majors in any of the following: sociology, psychology, anthropology, political science, social work (or development), history or urban studies. Please direct enquiries and applications to Rowén Fernandez, tel 650 5680 or e-mail rowen@law.uct.ac.za. Applications close on November 30.
---
This work is licensed under a Creative Commons Attribution-NoDerivatives 4.0 International License.
Please view the republishing articles page for more information.
---