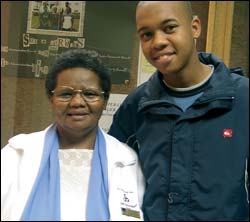 Second Mom: Five-Star Staffer Stella Burns with Leo Marquard resident Nyiko Mayimele.
"Swipe your card, meneer - where's your student card?" asks Stella Burns in her motherly voice to a resident of Leo Marquard Hall.
As the residence's receptionist for the past 19 years, Burns is a familiar face and voice to the some 420 students who reside there.
"This is home away from home for me," explained this week's Five-Star Staffer. "I have a son who can be quite difficult at times, so I know how to handle these young men. I respect them and they respect me."
Burns started working at Leo Marquard Hall 28 years ago as a cleaner servicing the seventh floor. She then moved to work in the linen room for a few years before taking up her current position.
It is her joy of examining the finishing touch that fuels Burns' love of cleaning.
"With cleaning it is wonderful to stand back and admire your work. It's the same at reception. The finishing touch here is happy and satisfied students.
"You get so used to these guys. I know immediately when something is wrong with them," she added.
Her unfailing care and support has earned Burns plaudits from the residents.
Leo Marquard's deputy head student Peter-Paul Mbele said: "I would like to nominate a phenomenal woman who has served Marquard with diligence and incredible dedication for the past 28 years. Please allow us as the residents to say thank you to the woman who has been a second mother to all of us.
"Auntie Stella is so humble, she does not like people making a fuss about her and after all these years she still says, 'Ag nee man, I'm just doing my job'."
Mbele pointed out that Burns was honoured in 1993 with the Leo Marquard Fellowship Award and is now a Life Fellow of the residence, alongside the likes of former vice-chancellors Dr Stuart Saunders and Sir Richard Luyt, and deputy vice-chancellor Professor Martin West.
To help her relax, Burns listens to music. She is also an enthusiastic member of her church choir. "No matter what I'm doing, I always have to have music playing. And it must be on loud. I even take the radio with me when I bath."
Burns plans to retire in about ten years time but says she will remain a second mother to all at Marquard until then.
---
This work is licensed under a Creative Commons Attribution-NoDerivatives 4.0 International License.
Please view the republishing articles page for more information.
---