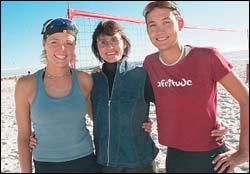 Travellers: Venetia Naidoo (middle), with daughter Leigh-Ann (right) and Julia Willand, is among the UCT staffers who will be at this year's Olympics.
A couple of UCT staffers and students have been and will be footing it to Athens and the Olympics. We caught up with some of them.
If Gary Gabriels' early start is anything to go by, he embodies the spirit of the keen Olympic volunteer. Gabriels, a principal technical officer in the division of pharmacology, was one of the first to put up his hand, as his volunteer card will testify - number 591 of about 160 000 applicants. His decision to drain his financial coffers was prompted, in part, by what he saw at the World Students Games in Beijing in 1991. "It was an experience in how a nation rallied around an event," he recalls. "I was taken by the spirit in which people volunteered their services." Gabriels is a sporting fiend in his own right - he's been involved as player, coach and administrator in South African volleyball for more than 20 years (through some of sport and the country's darkest times, he points out), and has been lavished with honours, including a lifetime achiever award from the Western Province Volleyball Union. To get to this year's sporting showcase, he's had to shell out more than R20 000 of his own money. But it's money well spent as he feels a spiritual kinship with the Athens Olympics, he says. His life, as with the Olympics returning "home", has come full circle, he notes. "There's a sort of synergy." Just like those Olympic circles.
Venetia Naidoo, based with the Project for the Study of Alternative Education in South Africa (Praesa), has always been her kids' - daughter Leigh-Ann and son Leslie - biggest fan. And they've both done her proud, especially on the sporting field. Leslie plays top-flight beach volleyball as does Leigh-Ann who, together with teammate Julia Willand, recently became the first South African beach volleyballers to qualify for an Olympic Games. (The SA men's side qualified later.) And even if Leigh-Ann and Willand don't step onto the winners' podium, mom will still be gushing. Getting to Athens has been an Olympian task in itself, as the two have had to pay their own way to international competitions for the past few years, knocking on sponsors' doors, setting up their "Sisters of Africa" website and staging all manner of events to raise money. "They've grown a lot and it's been a good experience for them," says Venetia. "But they should have been spending their energies on training." Hopefully, South Africans will be as proud of the players' grit.
Rochelle le Roux, deputy director of the Institute of Development and Labour Law, is going camping for the first time in her life. In Greece. Le Roux, an executive member of the Sports Law Association of South Africa, was a little late in scouting for lodgings in Athens and so, like many others, will be quartered in a tent for her Olympic experience (although there'll be a brief non-camping stay on a holiday island before). But that just adds to the moment, she says. Leaving on August 20, Le Roux and her friend (who'll meet up in Athens with Elsje Scott, a senior lecturer in the department of information systems, and her husband) will be at the last night of the athletics when both high-jumper Hestrie Cloete and 800m runners Hezekiel Sepeng and Mbulaeni Mulaudzi should be vying for medals. "I'm looking forward to seeing one of our athletes win gold," says Le Roux. "That's what I want to see." Public toilets will be worth that.
And now for something completely different. Just after the Olympic athletes vacate the premises with all their freebies and directly before the paralympians move in (there's a short overlap), a couple of UCT students will be enjoying an Olympic experience of their own. Three UCT students - Bruce Merry, Carl Hultquist and Marco Gallotta - are part of the South African squad to compete in the International Olympiad in Informatics in Athens, running from September 11 to 18. The trio will be bivouacked in the Olympic Village, along with the rest of the South African team and competitors and coaches from 78 other nations. Onetime competitors and medal-winners themselves, Merry and Hultquist, who worked with the SA team in preparation for the event, will act as leader and deputy leader for the squad, respectively. Donald Cook, a student advisor with UCT's computer science department and regular chaperone and coach for the team, gave up his place to allow the two to head for Athens. "They've worked so hard to prepare the team," he said.
---
This work is licensed under a Creative Commons Attribution-NoDerivatives 4.0 International License.
Please view the republishing articles page for more information.
---