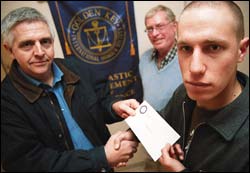 Gold in hand: Mikhael Subotzky (right) receives his Golden Key prize money from Dr Ian Mackintosh (left), acting dean of students at UCT, while Glen Anderson, advisor for the UCT chapter of Golden Key, provides support.
With tens of thousands of students from around the globe jostling for it, it takes something special to win one of the scholarships and awards that the Golden Key International Honour Society hands out each year.
UCT's Mikhael Subotzky, a fourth-year student at the Michaelis School of Fine Art, obviously has what it takes. He was named as the winner of the photographic category under the society's Performing Arts Showcase awards, an honour that comes with a handsome purse of US$1 000 (just over R6 200). Subotzky, who specialises in stitched panoramic shots (each image is made up of a number of individual photographs), won the prize for his shot of the legendary Ronnie's Sex Shop, the secluded but cleverly-marketed bar in the Klein Karoo that, as visitors soon find out, is not a sex shop at all.
The award is timely - final-year exhibitions are looming. Subotzky is sinking all of his winnings into his proposed project, which he will shoot on film, an expensive exercise these days. For this, the 22-year old plans to take a broad look at South African correctional services and, in particular, at prisons. "The conditions is prisons, I feel, has very far-reaching social implications, and is both an effect of and a cause of broader social problems," he says.
Subotzky's interest in the topic was sparked by an image he compiled of a prisoner casting his vote at Dwarsrivier Prison near Wolseley in this year's elections (Subotzky heard of the upcoming voting while chasing down another photo opportunity). "For me it was a very interesting moment as it brought together two very strong discourses in South African history - that of freedom and also of the relation between SA history and imprisonment, and how it is an important theme in South African history and the fight for freedom."
He has big plans for the project and is keen to, once his Michaelis exhibition is wrapped up, take it out of the "rarefied" academic environs. Nelson Mandela's cell in Pollsmoor Prison - Madiba was incarcerated there in the mid- to late-1980s - is one gallery where he intends to showcase his work next year.
Little wonder then that Subotzky is very grateful to Golden Key - they've given him the freedom to explore some wonderful new vistas.
Golden Key is a non-profit organisation of students - the top 15% from each institution - from more than 335 universities throughout Australia, Canada, Malaysia, New Zealand, South Africa and the United States. UCT set up its Golden Key branch in 2000.
---
This work is licensed under a Creative Commons Attribution-NoDerivatives 4.0 International License.
Please view the republishing articles page for more information.
---