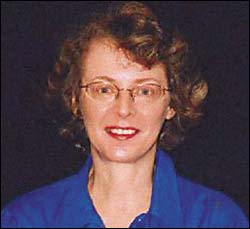 Dr Bette Davidowitz, winner of the SACI Chemical Education Medal.
Senior lecturer in the chemistry department Dr Bette Davidowitz has won this year's Chemical Education Medal from the South African Chemical Institute (SACI). The accolade rewards outstanding contributions to chemical education, judged on published work.
Davidowitz was nominated by the head of department, Professor Allen Rodgers. In his nomination Rodgers said Davidowitz had established herself as a distinguished teacher at the academic development level and had developed "considerable expertise" with disadvantaged students.
"Her dedication, preparedness, tenacity and professionalism are unrivalled among fellow lecturers." It continued: "She follows the latest trends in chemical education via international journals and conferences and is innovative in implementing these."
Rodgers praised Davidowitz's dedication to her students. "[She] spends hours tutoring them in formal as well as one-on-one ad hoc sessions. She it totally committed to her students and pores painstakingly over each student's results is all tests, practicals and exams. Her course/lecturer evaluations are consistently excellent and she frequently receives letters and notes of appreciation from past and present students."
He added that while Davidowitz's efforts had been focused mainly on first-year teaching, she had been the driving force for many years behind the Writing Project, which provides communication training for second-year students.
Rodgers added: "As further evidence of her commitment to science education at university level, Dr Davidowitz is a valued member of the Committee for University Education in Science (Cues), of which I am the chairperson."
The department also produced two other winners: Tanya le Roex (daughter of Professor Anton le Roex of geological sciences) and Richard Gessner. Le Roex, who is in the final year of her PhD (she is working on inclusion compounds), won a Sasol Postgraduate Medal. Gessner collected the James Moir Award . He was UCT's top chemistry honours student last year, with a first-class pass. He is currently doing his MSc (medicinal chemistry, looking at anti-tuberculosis drug development) and plans to upgrade to a PhD later this year.
---
This work is licensed under a Creative Commons Attribution-NoDerivatives 4.0 International License.
Please view the republishing articles page for more information.
---