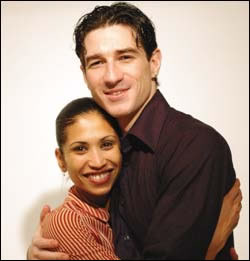 Former UCT student Desiré Samaai and Jonathan Ollivier, both from the Northern Ballet Theatre in the UK, will perform in Cape Town City Ballet's star-studded gala performances at the Artscape Opera House.
Death of DNA man
Francis Crick (88), who discovered the double helix shape of DNA with James Watson, has died in San Diego of colon cancer. British-born Crick won the Nobel Prize for his work on the DNA structure, which he studied with Watson in 1953 at Cambridge University. Until the time of his death he lived in California as the distinguished research professor and former president of the Salk Institute.
Biotech events and malaria research
The next Cape Biotech BioBuzz event, Basic Marketing for Biotechnologists by David Priilaid, will take place on Tuesday, August 17, at 17h30 at the Cape Tech Hotel School Restaurant in Granger Bay. Entrance is free. For more information contact info@capebiotech.co.za. In addition, Biotech is also advertising the International Centre for Genetic Engineering and Biotechnology's (ICGEB) courses. The ICGEB is an international organisation dedicated to advancing research and training in molecular biology and biotechnology, with special regard to the needs of the developing world. The Department of Science and Technology is now a full member of the ICGEB, which entitles South African scientists to attend their workshops and courses on genetic engineering and biotechnology. A course titled Molecular Biology Techniques in Malaria Research, will be run from December 6 to 7, 2004, in New Delhi, India. For more information, please go to http://www.icgeb.org/MEETINGS/CRS04/Malaria.htm . A course titled Analysis of Stress Responsive Plant Genes will be on from November 22 to December 2, 2004, also in New Delhi. For more information, please go to http://www.icgeb.org/MEETINGS/CRS04/Analysis.htm.
Information on Institutional Audit
In early 2005, the Higher Education Quality Committee (HEQC) will visit UCT to conduct an Institutional Audit. The HEQC is a permanent body reporting to the Council on Higher Education (CHE), which has the statutory responsibility for quality assurance and quality promotion in higher education. UCT's preparation for the HEQC audit is being coordinated through the Institutional Planning Department and the Institutional Audit Steering Committee (IASC). Please visit the Institutional Planning Department website for more information. It can be found at http://www.uct.ac.za/generic.php?m=/uct/institplan.php, or accessed through the main UCT web page under the heading The University of Cape Town.
Cape Town City Ballet all geared up
Cape Town City Ballet (CTCB) will present two dazzling performances at the Artscape Opera House on August 21 and 22. The evenings will showcase highlights from the company's repertoire over the past 70 years and will feature the artists of CTCB as well as guest stars Thomas Edur and Agnes Oaks from the English National Ballet and Desiré Samaai and Jonathan Ollivier from the Northern Ballet Theatre in the UK. Earlier this year Edur and Oaks were awarded the Sir Lawrence Olivier Award for outstanding achievement in dance.
Their visit this year will mark their fourth guest appearance with CTCB. Both Samaai and Ollivier have recently been nominated for the prestigious National Dance Awards in London. Samaai continues to command the admiration of audiences and critics alike, while Ollivier is recognised as one of Britain's leading male dancers. Also performing for the first time with the company is CTCB's outreach group Jikeleza. Working with the impoverished communities of Hout Bay and lending a hand with the rehabilitation of Green Point street children, Jikeleza aims to provide a safe and nurturing environment in which they can learn to express themselves through dance and other art forms.
Bookings for this dance spectacle can be made through Computicket or Artscape dial-a-seat on tel 421 7695.
---
This work is licensed under a Creative Commons Attribution-NoDerivatives 4.0 International License.
Please view the republishing articles page for more information.
---