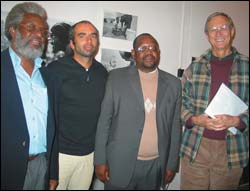 Pushing boundaries: (From left) Dr Chirevo Kwenda, head of the religious studies department with Dr Nick Shepherd from the Centre for African Studies, visiting lecturer Prof Mothole Motshekga and Dr Augustine Shutte from the philosophy department.
Magic Flute for Baxter
New York-based Kamal Khan is back in Cape Town to conduct a brand-new season of Mozart's opera The Magic Flute at the Baxter from August 7 to 14. Guest artist, Kaiser Nkosi will lead the cast of young voices of the CTO Studio and UCT Opera School, accompanies by the UCT Symphony Orchestra. Directed by Angelo Gobbato, the opera is brimful of Mozart's melodies and choral pieces. Performances are at the Baxter at 20h00 on August 7, 11, 12, 13 and 14, with a performance at 18h00 on August 9, National Women's Day, when two tickets can be bought for the price of one. Booking is through Computicket. Tickets are R70 and R55. Students and senior citizens pay R30.
Pass Forum meeting
The next Pass Forum meeting will be held on Friday, August 6, from 08h30 to 10h00 in the Senate Room. The agenda includes an informal report back on the Council meeting. Judy Favish, director of the institutional planning department, will talk about what the department does and why it is becoming increasingly important with regard to changes in higher education. Caz Thomas, head of IAPO, and Nan Warner, Africa Links administrator in IAPO, will talk about internationalisation at UCT and our growing links with universities in other African countries. Time will also be devoted to issues staff might wish to raise. (If you want executive feedback on any of these issues, please give advance notice to Lesley Shackleton before the end of the month.)
Transport plan presentation
Vice-chancellor Professor Njabulo Ndebele and deputy vice-chancellor Professor Martin Hall invite all staff and students to attend a presentation and Q&A session on UCT's proposed Access Transport Plan. The plan deals with parking and a proposed new bus service for the university community. Information sessions will be held on the following dates: August 6, 2004, Kramer LT2, 12h00-13h45; August 16, Jameson Hall, 13h00-14h45; and August 18, RW James Building, 13h00-14h45.
New marketing book published
The new edition of Marketing in South Africa: Cases and Concepts (published by Van Schaik) has just been released. Authored by Professor John Simpson and Bridget Dore from the UCT Unilever Institute of Strategic Marketing, this second edition offers an even broader collection of case studies, providing the reader with excellent samples of uniquely South African marketing theory and practice. The case studies cover a diverse range of products and services targeted at different parts of the unique South African market, and touch on varied aspects of marketing, from advertising and tourism through to retail strategy. In addition, four new marketing concepts have been added to provide the reader with a better understanding of the South African marketplace, and to add value to students' analyses of the cases. Accompanying the book is a video which illustrates four case studies and examines brand and advertising strategy, the introduction of a new product category, creating a brand personality, launching a new product category, assessing brand viability and changing a well-known and -loved brand name. For more information please contact Katherine Thomson, tel 650 4312 or e-mail kthomson@commerce.uct.ac.za
Former Gauteng premier visits UCT
The religious studies department hosted former Gauteng premier and director of the Kara Heritage Institute, Professor Mathole Motshekga, as a visiting lecturer last week. A lawyer by training, Motshekga presented a lecture at the Centre for African Studies on July 28 entitled African Spiritual Science and Religious Philosophy. He believes UCT and its scholars can make a major contribution to the African Renaissance and South Africa's moral regeneration programme. He said: "Spending time at UCT is wonderful because it allows the sharing of ideas with staff and students. It also ensures that strategies and measures which can be adopted in support of the national agenda of the rebirth of the continent are discussed." Head of department Dr Chirevo Kwenda said Motshekga's visit injected new ideas and stimulated debate among students and staff. "Sometimes due to routine, students are able to anticipate what they might hear in lectures, but by having a visiting lecturer of Professor Motshekga's status allows them to begin to wrestle with new ideas, even controversial ones," he said. "As teachers we want to be able to push boundaries in the pursuit of knowledge."
New SRC election officers
With the 2004 round of SRC elections on the horizon, the Student Development Office has kicked off preparations for the event. To get the ball rolling, the office has appointed three election officers - Wane Msiska (coordinator), Gaontebale Nodoba (media), and Colins Imoh (logistics). This year's elections are seen as something special, firstly because they fall in the tenth year of South Africa's democracy, but also because Council has approved a new SRC constitution and student-governance model. Pre-voting interrogation runs from September 6-10, while voting is scheduled for September 13-17. Results are expected to be out around September 20.
---
This work is licensed under a Creative Commons Attribution-NoDerivatives 4.0 International License.
Please view the republishing articles page for more information.
---