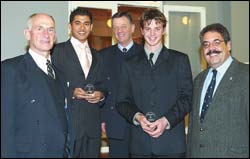 All rounders: (From left) Alderman Frank van der Velde; Sharand Maharaj, winner of the Sir Richard Luyt Memorial Scholarship; sponsor Roy Wright of Caltex; Dominique Pitot, winner of the Dwane Martin Memorial Scholarship; and Nassos Martalas, chair of the scholarship programme's management committee.
The nineteenth annual Dwane Martin Memorial Scholarship and Sir Richard Luyt Memorial Scholarship were recently awarded to two top students for their outstanding contributions to student life at UCT.
Dominique Pitot was selected as the winner of the 2004 Dwane Martin Memorial Scholarship and Sharand Maharaj collected the Sir Richard Luyt Memorial Scholarship, named in memory of the previous chairman of the Dwane Martin Adjudication Committee and a previous vice-chancellor of UCT.
Established by a group of friends and fellow students, this unique scholarship programme serves in memory of former student leader and UCT staff member, Dwane Martin, who contributed generously to the university and student life in general, before his untimely death in 1984. Today, the scholarship seeks to reward students who, through exceptional leadership qualities in student affairs, have shown dedication to student government at UCT and have advanced the university's ideals and mission statement.
Friends of the late Dwane Martin set up the scholarship in 1985 as a tribute to their peer. Unlike many other scholarships that seek to reward only academic accomplishment, the management committee deemed it appropriate that the scholarship would reward and recognise leadership and service in student government. Pitot is a BSc (Eng) graduate in electrical and computer engineering and is currently studying Xhosa in the humanities faculty. In 2002 he founded the UCT Habitat Club, the objective of which is to build homes in townships. Under his leadership the club has expanded to the Cape and Peninsula technikons.
In addition, he is presently launching the Impact Institute, which will provide information to people interested in volunteer work in communities. He has been selected for the Dean's Merit List for three consecutive years and intends specialising in electronic communication. Though he plans to start his own business, Pitot aims to continue playing a part in voluntary and community work.
Maharaj is a third-year BBusSc student majoring in finance and economics. As the incumbent RAG chair, he has held various portfolios in RAG over the years. He was president of Invest Society, a member of the Student Parliament and served on the board of SHAWCO. After his studies he wants to pursue a career in global investment banking.
The two were among the eight students who were short-listed for the awards this year. The others were Tristan Görgens, Matshidiso Selokoma, Nicolene Ramsunder, Thabiso Monyatsi, Jared Licina, and Brandon Trew.
---
This work is licensed under a Creative Commons Attribution-NoDerivatives 4.0 International License.
Please view the republishing articles page for more information.
---