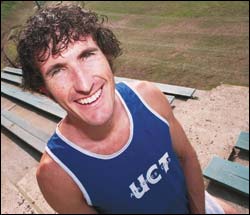 Much to smile about: Master's student Iain Don-Wauchope, taking part in his first international event, has made his mark on the international duathlon landscape.
UCT student Iain Don-Wauchope - competing in his first international event and riding the first competition bike he didn't have to borrow from someone - has won gold at the World Duathlon Championships in Belgium.
The 29-year old Don-Wauchope, a master's student in environmental management at UCT, took top spot in the championships' 25-29-year age group event, held in the town of Geel on May 31. He was also the fastest competitor among all the age-grouped athletes, whose race comprised a 10-km run, a 40-km cycle and another five-km dash on foot.
The UCT student earned his place in the South African team taking part in the competition by winning both the Western Province and South African championships in his age group earlier this year. It was a remarkable feat for Don-Wauchope who only competed in his first triathlon in October 2003 and in his first duathlon in March this year.
But while he'd borrowed competition bikes for those events, Don-Wauchope realised he would need his own for his international debut. And although he received funding from UCT (R2 000 from UCT Sports Administration and R250 from the UCT Athletics Club) and his parents (who footed a few bills), he had to sell his car to make the trip to Belgium and to buy that new bike.
As one final gift, mom and dad had also chipped in for a brand new pair of racing shoes.
By the time his race came along on May 31, Don-Wauchope and his SA teammates had managed to get a feel for the country - they'd cycled their way around sections of the country's northern areas - and the tournament, having watched the elite race (won by Belgian Benny Vansteelant, with SA riders coming in thirty-sixth and sixty-fourth) and the women's age-group competitions, in which South Africans did reasonably well. Vickey Cotter finished second in the 20-24 age-group, Yolandi van Vuuren was third in the 30-34 category, and Anne Weeden was runner-up in the 55-59 age-group. Don-Wauchope's race proved to be an eventful and exhausting one. It started off well, though, as he and teammate Samuel Mbobo opened up a brisk lead on the rest of the field soon into the 10-km run. The two stayed together for much of the first leg of the event before Don-Wauchope scooted away.
But the UCT student almost ran into trouble in the transition area - he was about a minute-and-a-half ahead of the pack - when he went down the wrong shute and found himself blocked off from his cycle. After darting between other cycles, he picked his way to his bike, got in the saddle and broke away again. He kept the lead until the final lap of the cycling leg when local competitor Koen Maris overtook him.
Don-Wauchope didn't let Maris pull away, however, and was only 15 seconds behind the Belgian as they entered the transition area. Maris had problems in the transition, though - he had pushed hard to peg Don-Wauchope back after the run and was stretching out some cramps. Don-Wauchope was five seconds ahead when the two set off for the final five-km run, although he was having problems of his own. "My legs were heavy and sore, my chest was burning, I could feel the lactic acid creeping up my legs and I was very concerned I couldn't maintain the pace," he recalls.
But he stayed focused and even picked up his pace when it seemed that some of the other competitors were likely to catch up with him. "I started counting down every corner, every landmark, every metre to the finish," he says of that last few kilometres. By the time he broke the tape - SA flag in each hand - he had put 43 seconds between himself and Maris.
"I was absolutely knackered but equally ecstatic," he says.
Before the race, there had been high expectations of Don-Wauchope. "A few people had mentioned to me before the race that they were expecting a win from me, and I thought these added expectations would make me nervous," he adds. "However, I was really happy with the way I managed my thoughts, emotions and feelings. I was just trying to enjoy the moment, soaking up the atmosphere and giving it my best shot. I'd already decided that I'd had a great trip and that if I did well it would be a bonus."
Don-Wauchope now has his sights set on the elite races. He hopes to qualify for this category at the next big race on the international calendar, the 2004 World Long-Distance Duathlon Championships - a 20km run followed by a 120-km cycle and rounded off with a 10-km run - in Denmark on August 1. He understands, however, that the elite events are an entirely different kettle of fish. "Many of athletes sat in the pack for the entire 40-km cycle and spared their energy for the run," he spotted during the elite race in Belgium. "But it's a completely different race to the age-groupers, so comparisons are difficult."
He's confident, though, that he'll feature among those top guns at his next duathlon.
Don-Wauchope thanks Thys Strydom for his Enduren sports drink sponsorship, Kai Albrecht for the Oregon Scientific stopwatch/heart rate monitor and to Elaine Mouton for his tailor-made Coral Wetsuit (to be used in forthcoming triathlons). He also sends out a very big thank you to all those who tried to help raise the R10 000 he needed for the championships and those who provided much needed moral support and friendship.
---
This work is licensed under a Creative Commons Attribution-NoDerivatives 4.0 International License.
Please view the republishing articles page for more information.
---