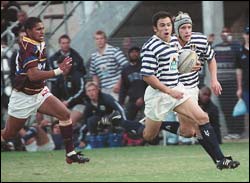 Full-steam ahead: Fullback James Richards on one of his many runs at the Tygerberg line.
It was always on the cards that the FNB UCT side, expected to be knackered from their bruising exertions against Maties the week before, was going to struggle against a hardy Mr Price Tygerberg on May 15.
And so they did, losing 27-33 at the Florida Park Stadium in Ravensmead. But the side showed plenty of pluck at the end as they launched attack after attack on the Tygerberg line. In turn, the Tygerberg defence mimicked their rivals' Herculean efforts the week before, fending UCT off until the very last moments of the game when substitute Richard Hall broke through for one final but belated goal. That last-gasp try did reduce the deficit to only six points, however, earning UCT two valuable log points.
Fullback James Richards was one of UCT's outstanding players of the match, regularly joining the backline in attack and putting Tygerberg under pressure on more than a few occasions.
UCT was fourth on the log after the match, but is unlikely to win the first round of the Grand Challenge.
Other results:
UCT 2 beat Tygerberg by 29-5
UCT 3 beat Tygerberg by 45-19
UCT 4 beat Tech Gardens 4 by 45-0
UCT 5 beat Hamiltons 4 by 68-3
Hiddingh Hall beat Villagers 4 by 10-7
U/20 A1 lost 26-27 to Tygerberg U/20 A
U/20 A2 lost 15-39 to Junior Maties.
---
This work is licensed under a Creative Commons Attribution-NoDerivatives 4.0 International License.
Please view the republishing articles page for more information.
---